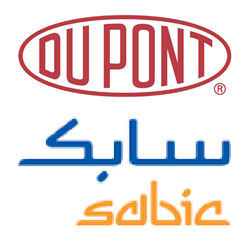 We have chosen to partner with DuPont Sustainable Solutions to help us with our transformation; we trust that they can provide our company with solutions to help us achieve a world-class standard.
Al-Khobar, Saudi Arabia (PRWEB) June 06, 2017
SABIC is collaborating with DuPont Sustainable Solutions (DSS) to accelerate progress towards becoming a world leader in environment, health and safety (EHS) performance.
"SABIC's EHS achievements in recent years have been impressive," said Ahmed Al-Shaikh, Executive Vice President, Corporate Manufacturing, SABIC. "And yet, there is a strong desire within the leadership team to reach the next level in EHS culture maturity, as outlined in the SABIC 2025 strategy."
Khaled Saleh Al-Kharboush, Corporate EHS General Manager and Project Executive, said: "This effort is extremely important. We have chosen to partner with DuPont Sustainable Solutions to help us with our transformation; we trust that they can provide our company with solutions to help us achieve a world-class standard."
In line with its 2025 strategy, SABIC is becoming more global, more distinctive in its product offering, and more integrated in its operations. While the company has long been committed to the robust implementation of a rigorous environment, health, and safety (EHS) performance, the executive team has decided to invest further in becoming a world leader. The EHS transformation project will facilitate this change by strengthening operational risk management, leadership capabilities, and effectiveness of systems and processes to manage EHS performance. The DuPont engagement is an integral part of this improvement process.
Johan van der Westhuyzen, Managing Director for DSS – Turkey, Middle East and Sub-Saharan Africa, said, "DuPont remains committed to SABIC. We will deploy our best capabilities, owner-operator experience and know-how to ensure the success of this project. We look forward to working with SABIC to identify and mitigate the specific risks, which will ultimately allow them to achieve sustainable improvement."
Ehsan Akhavan, DSS director leading the engagement, said, "The positive shift that companies have made from a compliance-driven approach to a risk-based approach has delivered much value to improve their EHS performance, and leaders play a key role in driving sustainable change through greater engagement of all levels in the organization."
SABIC is a global leader in diversified chemicals headquartered in Riyadh, Saudi Arabia. The company manufactures on a global scale in the Americas, Europe, Middle East and Asia Pacific, making distinctly different kinds of products: chemicals, commodity and high-performance plastics, agri-nutrients and metals.
SABIC supports its customers by identifying and developing opportunities in key end markets such as construction, medical devices, packaging, agri-nutrients, electrical and electronics, transportation and clean energy.
SABIC has more than 35,000 employees worldwide and operates in more than 50 countries. Fostering innovation and a spirit of ingenuity, the company has over 12,000 global patent filings, and have significant research resources with innovation hubs in five key geographies – USA, Europe, Middle East, South East Asia and North East Asia.
The Saudi Arabian government owns 70 percent of SABIC shares with the remaining 30 percent publicly traded on the Saudi stock exchange.
DSS is a partner of choice for key industries throughout the Middle East, particularly oil & gas. DSS has been operating in the region for over 15 years, and has successfully assisted companies with safety, operations and environmental challenges.
As one of eight DuPont businesses, DSS is a leading provider of world-class operations consulting services to help organizations transform and optimize their processes, technologies and capabilities. DSS is committed to improving the safety, productivity and environmental sustainability of organizations around the world. Additional information is available at: http://www.sustainablesolutions.dupont.com
DuPont (NYSE: DD) has been bringing world-class science and engineering to the global marketplace in the form of innovative products, materials, and services since 1802. The company believes that by collaborating with customers, governments, NGOs, and thought leaders we can help find solutions to such global challenges as providing enough healthy food for people everywhere, decreasing dependence on fossil fuels, and protecting life and the environment. For additional information about DuPont and its commitment to inclusive innovation, please visit http://www.dupont.com.