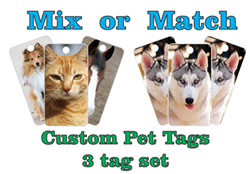 Three (3) guaranteed, double-sided, fully customization color pet ID tags at a price that is equal to about one traditional metal tag.
Boulder, Colorado (PRWEB) July 11, 2014
Dura-Tag™, a new type of customizable pet id tag, is quickly gaining popularity among pet lovers. This unique product is the creation of JollyAwesomePetTags.com, a independent pet tag specialty company dedicated to providing value through their novel tag product and their online customization tool. Unlike traditional metal ID tags, Dura-Tag™ pet ID tags are made of a "noise-free" non-metallic tagging material that is strong, durable, long-lasting and guaranteed.
The online marketplace for pet ID tags is mostly dominated by aluminum and stainless steel tags. These noisy metal tags are often name engraved on one side only and are available in limited styles, shapes and colors. Offering a full color customizable pet ID tag option isn't common in the pet ID tag industry due to complexity and a high tag price. JollyAwesomePetTags.com makes it easy for pet owners to design and create three (3), mix or match, full color pet tags online at an unheard of price point. These double-sided customizable pet id tags are original works of art that truly reflects the pet's personality.
JollyAwesomePetTags.com stands behind all their Photo-pet tag™ products by offering five unique guarantees: damaged tag replacement, lost tag replacement, tag info update, product performance, and product satisfaction. Dura-Tag™ pet tags offer these great benefits:

Strong & Durable – Dura-Tag™ is tough and is designed to hold up.
Quiet – Say good-bye to clinky, clanky, noisy metal tags.
Inexpensive – "3 tags for 1 low price" is unmatched in the industry
Peace of mind – Outstanding product guarantees
Nuevo Originality –Custom photo pet tag will be the envy of others
Dura-Tag™ pet id tag users have expressed their delight about this product. Doctor of Education and avid dog owner Dr. Joan Essic sums up her experience of using Dura-Tag™ by saying, "I found creating a custom pet tag easy and fun. The online design tool is intuitive and straight-forward. I was further impressed once I received the tags and felt their quality and durability. Now, not only does my pet have a great looking tag, but I have extra tags for her leash and my key-ring as well!"
To find out more about JollyAwesomePetTags.com and their unique pet id tags, please visit http://www.jollyawesomepettags.com/.
For sample requests please email media(at)jollyawesomepettags(dot)com.
About the Company: JollyAwesomePet Tags is a small independent pet tag specialty company focused on providing unique value through their original Dura-Tag™ pet ID product. Through the company's easy-to-use online customization tool, creating a full-color, photo pet tag™ has never been easier. Dura-tag™ is a non-metallic tag option that is long-lasting, durable, and scratch-resistant and do not clink and clank like metal tags do.