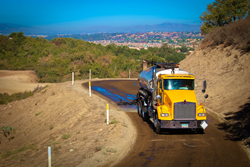 The awarding of this third patent shows that we continue to innovate and invest in our technology.
Scottsdale, Arizona (PRWEB) March 28, 2017
Soilworks has been issued a third U.S. Patent for its dust suppression formula Durasoil, an environmentally safe, non-toxic synthetic fluid that can compact various soils and aggregates and provide long term soil stabilization and dust suppression.
"The awarding of this third patent shows that we continue to innovate and invest in our technology," said Chad Falkenberg, CEO of Soilworks and inventor of Durasoil.
Durasoil is engineered for the most challenging intense-use dust control needs. This ultra-pure non-petroleum based fluid with Gas to Liquid (GTL) technology is made from clean, plentiful natural gas and is distinctively crystal clear, odorless and formulated to meet the highest standards of environmental efficacy. Durasoil is environmentally friendly and safe to spray around people, animals and vegetation.
Supported by hundreds of third-party independent tests, Durasoil has risen to the top of the dust suppression industry for its proven effectiveness and environmental efficacy. From the U.S. Army Corps of Engineers (USACE) to the U.S. Environmental Protection Agency (EPA), Durasoil's continuous validations are extensive and thorough.
For more information about Soilworks, please visit http://www.soilworks.com.
About Soilworks
Soilworks provides engineered solutions to meet the broad needs of the dust control and soil stabilization industry. Whether the market is commercial, industrial or military, Soilworks has the innovative tools, unmatched technical support, and environmentally friendly technologies to fulfill specific requirements. Soilworks' performance-driven portfolio of industry-leading products include the Patented U.S. Dept. of Defense Surtac®, Soiltac®, Powdered Soiltac®, Gorilla-Snot® and the newly patented Durasoil®. Soilworks' international sales network, global distribution centers and integrated customer service provide an ideal platform to satisfy all its customers' needs. Get to know Soilworks better at http://www.soilworks.com or call 1-800-545-5420.