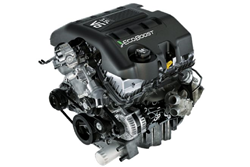 The 2.5-liter editions that are now a feature in our Internet based inventory are 10:0:1 compression units that are supplied through our salvage partners
Charleston, SC (PRWEB) August 30, 2015
Ford made changes to its cast iron motor blocks in the year 1993 to help introduce new digital technologies that were active in the Duratec series 6-cylinder engines in the U.S. The Got Engines company is now able to supply used condition Duratec 25 V6 engines on its website. Consumers can now view what editions are in stock at http://www.gotengines.com/blog/ford-engines/ford-duratec-25-v6.
The changeover from the SOHC to the DOHC build provided more horsepower and a stabilized fuel system in most 1993 to 2002 produced vehicles at Ford. Consumers who explore the Got Engines company inventory will be able to find the 60-degree V6 blocks that are offered in standard and SVT versions.
"The 2.5-liter editions that are now a feature in our Internet based inventory are 10:0:1 compression units that are supplied through our salvage partners," said a rep at the GotEngines.com website.
The 152 cubic inch displacement Duratec 25 motors that are being distributed this year will receive automatic warranty protection at the time of purchase. With the failure rate of OEM components at more than 25 percent on a used block, the Got Engines company has made significant changes to its warranty policies. The exact terms can be reviewed at http://www.gotengines.com/warranty.html.
"We are now one of the few American companies that are offering an established 36-month parts coverage plan at the point of sale," said the rep.
Consumers who have questions about the types of components that are now protected can call 1-866-320-1065 from inside the U.S. A staff of support services representatives is now available daily.
About GotEngines.com
The GotEngines.com company has one of the leading websites to explore and purchase second hand condition vehicle components at a discount price. The company is fortunate to work with salvage yards in all 50 states to provide a growing inventory to consumers. The GotEngines.com website now includes an ordering center to provide immediate processing for consumer orders on the web.