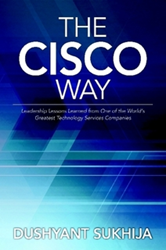 SAN JOSE, Calif. (PRWEB) April 18, 2016
"The Cisco Way: Leadership Lessons Learned from One of the World's Greatest Technology Services Companies." (published by Lulu) is a book designed for the CEO struggling to transform a company to the next level. Author Dushyant Sukhija draws from his experience at Cisco Systems, recognized as the biggest networking company in the world, to provide the reader with insights on how to navigate the transformation to a services-led business and stay relevant in the market.
"We are smack in the center of a spectacular transition that is rendering all previously accepted business models obsolete—the transition to a digital services economy. The new services economy is making services more relevant than products," Sukhija explains. He adds that the book "lays out the leading-edge best practices and service strategies to navigate this transition to lead in the new services economy, become a world-class services organization, and build undisputed sustainable value and differentiation."
Sukhija provides identifiable real-world examples and nine easy-to-follow steps for the leaders in the new services economy to get a grasp on "the winning strategies and frameworks that have resulted in Cisco's phenomenal success as a global powerhouse by leading with services," and how to integrate these strategies into their own business model.
"The Cisco Way"
By Dushyant Sukhija
Softcover | 6 x 9 in | 350 pages | ISBN 9781530268368
Available at Amazon and Barnes & Noble
About the Author
Dushyant Sukhija spent 14 years at Cisco, the $50 billion worldwide leader in networking for the Internet. He immigrated to the United States with a degree in electrical engineering from the Indian Institute of Technology, Delhi, $400 and the drive to make a mark on the world. While earning an MBA with honors from Santa Clara University, he worked at Hewlett-Packard before moving to Cisco.
As a Silicon Valley and Cisco thought leader and insider, Sukhija has spoken at several prestigious industry and leadership forums. During his Cisco tenure, Sukhija was a member of the Cisco Service Provider Services Board, the Cisco Service Provider Business Council, and one of the key stakeholders and senior services executives who helped form the company's services strategy. More information is available at theciscoway.com/.
Lulu empowers people of all ages to explore and express their interests, passions and expertise through books, photography and art. Since introducing self-publishing in 2002, Lulu has empowered creators in more than 225 countries and territories to produce nearly two million publications. Lulu Jr. allows children to become published authors, encouraging creativity, strengthening literacy and building self-esteem. Picture.com offers professional photography of collegiate and professional sports, memorable and historic events, fine art and home décor. For more information, please visit lulu.com.