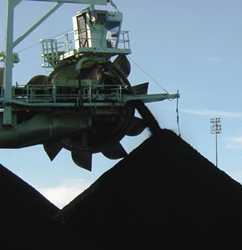 We devote great resources to developing products, services and technologies that minimize airborne dust and ensure material flow safety
Aurora, IL (PRWEB) July 19, 2017
Benetech, Inc. has been taking the lead in developing solutions for a dust-free work environment and a safe material flow for bulk material handling companies.
Combustible airborne dust that escapes during bulk material flow represents a major threat to both people and property. The Occupational Safety and Health Administration (OSHA) defines combustible dusts as "fine particles that present an explosion hazard when suspended in air in certain conditions" (i.e. a high concentration in an enclosed space where heat and oxygen are present). A dust explosion can result in significant physical harm, as well as damaged relations between a bulk material handler and its community.
In many events involving a dust explosion, business operators and staff are not aware of the developing danger. Just a few industries often at risk of combustible airborne dust include agriculture, chemicals, fertilizers, wood/forestry, paper and pulp, furniture and coal.
"We devote great resources to developing products, services and technologies that minimize airborne dust and ensure material flow safety," said Benetech Vice President Paul Moran. "As specialists in dust filtration, containment and suppression, we provide what bulk material handlers need to reduce dust spillage, dispersion and accumulation. This leads to working environments that are much more secure, as well as greater regulatory compliance."
Benetech's range of solutions for dust suppression and safe material flow includes:
Advanced and patented technologies for engineered transfer chutes
Inspection doors for access to hidden areas
Belt cleaners that prevent carryback and spillage
Belt support and containment that restrict the escape of combustible dust
GreenTarp™ dust suppression for control of inactive piles and ground covers
Washdown systems that make cleaning more efficient
Wet-dust extraction that removes up to 99.5% of airborne dust
Specialty applications that inhibit spontaneous combustion
Benetech specialists also review existing dust filtration, containment and suppression systems and troubleshoot for any deficiencies in them. They further consult with bulk material handlers in following OSHA recommendations for material flow safety and a dust-free work environment.
Benetech provides complete, performance-based solutions for dust mitigation and bulk material handling systems. Its products, services and technologies reduce dust, prevent spillage, improve material flow and reinforce compliance. A partner in planning, engineering and operating dust control and material handling, Benetech helps companies assess challenges, establish priorities and achieve the results they require. For more information, please call (630) 844-1300 or visit https://www.benetechglobal.com.