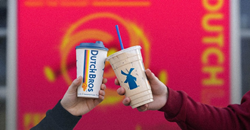 "Part of our mission at Dutch Bros is to make a massive difference one cup at a time," said Joth Ricci, president of Dutch Bros. "Our customers help us live that mission every day. It's remarkable what we can do when our communities come together."
GRANTS PASS, Ore. (PRWEB) February 22, 2019
On Thursday, Feb. 14, Dutch Bros Coffee and its customers celebrated Valentine's Day with the annual 'Dutch Luv Day,' raising enough money for more than one million meals for local food banks in seven states.
"To provide quality food for people who are hungry warms my heart," said Travis Boersma, co-founder and CEO of Dutch Bros. "Being a part of this special day is an honor."
Dutch Bros donated $1 from each drink sold on Dutch Luv Day. Each dollar, on average, helps serve three meals. This year, Dutch Bros surpassed its million-meal goal, raising $351,561.
"Part of our mission at Dutch Bros is to make a massive difference one cup at a time," said Joth Ricci, president of Dutch Bros. "Our customers help us live that mission every day. It's remarkable what we can do when our communities come together."
Dutch Luv Day started as a canned food drive in 2007 before evolving into its current format, which allows individual food banks the flexibility to buy the food they need in their communities.
Click here to find a list of organizations supported by Dutch Luv Day, or to find a Dutch Bros location near you, visit http://www.dutchbros.com/locations.
About Dutch Bros
Dutch Bros Coffee is the country's largest privately held drive-thru coffee company, with more than 320 locations and approximately 10,000 employees in seven states. The company is headquartered in Grants Pass, Oregon, where it was founded in 1992 by Dane and Travis Boersma. Dutch Bros serves specialty coffee, smoothies, freezes, teas, a private-label Dutch Bros Blue Rebel energy drink and nitrogen-infused cold brew coffee. Its rich, proprietary coffee blend is handcrafted from start to finish.
In addition to its mission of speed, quality and service, Dutch Bros is committed to giving back to the communities it serves. Through its Love Abounds Foundation and local franchisees, Dutch Bros donates several million dollars to causes across the country each year.
To learn more about Dutch Bros, visit http://www.dutchbros.com, like Dutch Bros Coffee on Facebook or follow @DutchBros on Twitter.