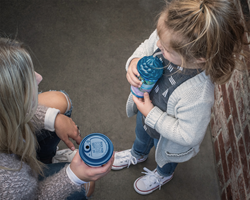 National Coffee Day is a great opportunity for Dutch Bros to give back to it's communities and support the youngest generations.
GRANTS PASS, Ore. (PRWEB) September 25, 2018
Dutch Bros is celebrating National Coffee Day with its annual Buck For Kids (B4K) event. On Saturday, Sept. 29, $1 from each drink sold will be donated to a local children's organization.
"I can't think of a better way to celebrate National Coffee Day than to help support the kids in our communities," said Travis Boersma, CEO and co-founder of Dutch Bros Coffee.
Dutch Bros held its first B4K day in 2006, raising about $93,000. Since then, B4K has raised more than $1.75 million to support kids and the programs that serve them. This year, with more than 320 locations, Dutch Bros hopes to bring the grand total to more than $2 million.
"Each year, our customers show up and make a huge impact," said Boersma. "Together, we're doing rad things - it's truly inspiring."
Dutch Bros strives to serve as a resource for programs and projects that positively impact the day-to-day lives of kids. Each local operator is encouraged to choose a youth organization that speaks to the heart of their community.
To find a location near you, visit http://www.dutchbros.com/locations.
About Dutch Bros
Dutch Bros Coffee is the country's largest privately held drive-thru coffee company, with more than 320 locations and 9,000 employees in seven states. The company is headquartered in Grants Pass, Oregon, where it was founded in 1992 by Dane and Travis Boersma. Dutch Bros serves specialty coffee, smoothies, freezes, teas, a private-label Dutch Bros Blue Rebel energy drink and nitrogen-infused cold brew coffee. Its rich, proprietary coffee blend is handcrafted from start to finish.
In addition to its mission of speed, quality and service, Dutch Bros is committed to giving back to the communities it serves. Through its Love Abounds Foundation and local franchisees, Dutch Bros donates more than $5.8 million each year to causes across the country.
To learn more about Dutch Bros, visit http://www.dutchbros.com, like Dutch Bros Coffee on Facebook or follow @DutchBros on Twitter.
# # #