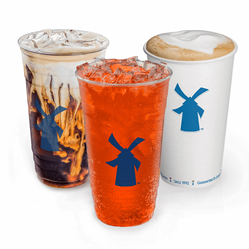 "Dutch Bros is amping up the Dutch Luv this season by giving fans a chance to win their favorite DB drinks all year long."
GRANTS PASS, Ore. (PRWEB) January 16, 2020
Dutch Bros Coffee fans only have a few more weeks for a chance to win free coffee (or any other drink!) for a year. The contest launched Jan. 1 and runs through Friday, Jan. 31, 11:59 p.m. PST. Anyone 18 or older can enter at win.dutchbros.com.
A winner will be chosen by random drawing on Feb. 1 and will receive a Dutch Bros gift card for 365 drinks, equaling $1,733.35. Coffee fans are allowed one entry, no purchase necessary.
Dutch Bros Coffee is the country's largest privately held drive-thru coffee company, with more than 370 locations and 12,000 employees in seven states. The company is headquartered in Grants Pass, Oregon, where it was founded in 1992 by Dane and Travis Boersma. Dutch Bros serves specialty coffee, smoothies, freezes, teas, a private-label Dutch Bros Blue Rebel energy drink and nitrogen-infused cold brew coffee. Its rich, proprietary coffee blend is handcrafted from start to finish.
In addition to its mission of speed, quality and service, Dutch Bros is committed to giving back to the communities it serves. Through its Dutch Bros Foundation and local franchisees, the company donates several million dollars to causes across the country each year.
To learn more about Dutch Bros, visit http://www.dutchbros.com, like Dutch Bros Coffee on Facebook or follow @DutchBros on Twitter.