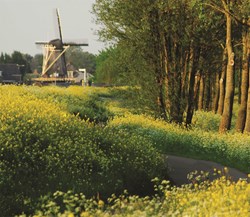 For art lovers, what could be better than seeing Rembrandts and Vermeers in their native lands, on a luxury cruise with expert lecturers on hand to help enhance their appreciation of the art, architecture and natural beauty all around them?
New York, NY (PRWEB) October 01, 2013
In spring 2014, passengers on Academic Arrangements Abroad's popular "Dutch & Flemish Landscapes" cruise can travel back in time to the days of the Dutch Golden Age, thanks to a new, customized land excursion added to the itinerary by the luxury tour operator.
Rather than a standard boat ride through the canals of Amsterdam, travelers will attend a floating art- history seminar that will bring 17th-century Holland to life. Offered in conjunction with the Rijksmuseum—the State Treasury of Dutch paintings—the new tour will highlight locations relevant to art of the Dutch Golden Age.
The renovation of the Rijksmuseum
On this floating seminar, passengers will sail past the spot where Rembrandt painted his 1642 work The Night Watch, glide through the Golden Bend section of the Herengracht Canal (depicted in Berckheyde's 1672 painting The Bend in the Herengracht), and glimpse the original location of the gallows where criminals were hanged more than 400 years ago. Afterwards, they will disembark for a visit to the Rijksmuseum—recently reopened following a 10-year renovation—to admire masterpieces depicting the locations they just saw.
This new offering enhances the rest of the cruise itinerary, which highlights the art, architecture and natural beauty of the Netherlands and Belgium. As the exclusive tour operator for The Metropolitan Museum of Art, Academic Arrangements Abroad organizes "Dutch & Flemish Landscapes" for the Met, as well as for Yale University's alumni travel program and the National Trust for Historic Preservation.
Lecturers from these institutions will be aboard the elegant riverboat AmaDolce to offer engaging, informative talks on various topics. Inés Powell, a Met lecturer, will share her expertise in 17th-century European painting, which will be complemented by presentations from Yale University photographer Mike Marsland and Anna Pavord, a British garden authority and author of the 1999 book The Tulip.
To add to the exclusivity of the experience, this cruise is limited to a maximum of 90 travelers, ensuring optimal comfort and service. (Normally, the AmaDolce carries up to 148 passengers.) Interested travelers should contact Academic Arrangements Abroad at 800-221-1944 (or 212-514-8921, if they are outside the United States) about availability.
ABOUT ACADEMIC ARRANGEMENTS ABROAD
Founded in 1977, Academic Arrangements Abroad provides an insider's look at extraordinary destinations in more than 50 countries through its networks of museum curators, professors and diplomats. One of its Mediterranean cruises was recently selected by National Geographic Traveler as one of the magazine's "50 Tours of a Lifetime" for 2013. For more information, call (800) 221-1944 or visit http://www.arrangementsabroad.com.