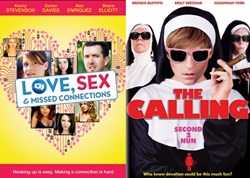 Love, Sex, and Missed Connections…"delivers a funny, well-paced film and a clever script offering some fresh twists and turns in the rom-com genre." – The Huffington Post
Los Angeles, CA (PRWEB) October 15, 2013
On October 22, Grand Entertainment Group, a division of Grand Distribution Group, and an independent multi-platform content and distribution company; will release two laugh out loud comedies "The Calling" and "Love, Sex, and Missed Connections."
Winner of 16 film festival awards, "Love, Sex, and Missed Connections"…"delivers a funny, well-paced film and a clever script offering some fresh twists and turns in the rom-com genre." – Huffington Post. The award winning comedic romance is one that any single person can relate to. Neal (Kenny Stevenson) who's been trying to get over a traumatic break up with his ex-girlfriend, finds himself doing what anyone in his situation would do, tricking women on the internet, with a little help from his friends of course. He has great success until he meets Jane (Dorien Davies), who may be just as devious and damaged as he is.
Praised by the Raindance Film Festival as "High on the charm, low on the cheese, "Missed Connections" is everything an indie rom-com should be." The film directed by Eric Kissack (The Dictator, Cedar Rapids), was written by Kenny Stevenson (Parks and Recreation), and stars Dorien Davies (Bunyan and Babe), Amir Talai (What to Expect When You are Expecting), Candace Brown (Dr. Seuss' The Cat in the Hat), Jordan Black (3, 2, 1…Frankie Go Boom), Mitch Silpa (Welcome to Me, Bridesmaids), and Scott Beehner (Tomcats, The Last Days of Disco).
"The Calling" from the award winning writer/director Jan Dunn, features a stellar cast led by Oscar® nominees Brenda Blethyn, (Secrets & Lies, Little Voice), Susannah York (They Shoot Horses, Don't They, Superman), BAFTA winning actress Rita Tushingham (A Taste of Honey, Dr Zhivago), and Emily Beecham (28 Weeks Later).
Joanna (Emily Beecham) is graduating from college when she faces up to a shocking truth she has been avoiding her whole life – she feels the calling to become a Nun. Her best friend is horrified, her boyfriend is pissed off and her mother feels it's just a phase. When she finally gets to the convent, she butts heads with an outrageous cast of characters, from the politically active Novice Sister Ignatious (Blethyn) to the psychotic Mother Superior (York) and wonders if she's following the right path after all.
Both DVDs will be available from Grand Entertainment Group on October 22 at most major retailers, and are available for pre-order on Amazon.com: Buy The Calling, Buy Love, Sex & Missed Connections.
But wait…there's more! Grand Entertainment's film "Fighting for Freedom" starring Bruce Dern (Nebraska), Kristanna Loken (Terminator 3: Rise of the Machines), and Patricia De Leon (Bad Ass), hits theaters October 18, with the Los Angeles premiere at the Laemmle NoHo 7, tickets can be purchased online or at the box office. The film will be available on DVD on December 3, 2013.
And to get in the Halloween spirit, Grand Entertainment along with Starpulse, one of the largest entertainment news websites in the US, have teamed up to giveaway a "Fright Night" DVD Prize Pack and a "Killer Thriller" DVD Prize Pack. The "Fright Night" giveaway is now running on Starpulse and the "Killer Thriller" giveaway starts October 16.
Other films from Grand Entertainment: Profile of a Killer, The Wedding Party, The Athlete, A Secret Promise, The Selling, The Holy Land of Tyrol, Face to Face, Under the Scares, Sick Boy, She Wants Me starring Charlie Sheen and Hilary Duff, Ready or Not, Neverlost, Rewind and Zyzzyx Road.
Media that is interested in reviewing any of Grand Entertainment's films please email your request to Rachel Madison Hill at rachelh(at)granddistributiongroup(dot)com
About Grand Entertainment:
Grand Entertainment Group (GEG), launched in early 2012, as a complete destination for programming. With the ability to distribute DVD, digital, streaming, television and limited theatricals, Grand Entertainment gives filmmakers and their films the platform they deserve. Grand Entertainment Group is a subsidiary of Grand Distribution Group that encompasses production and distribution for diversified products, services, and technologies. With a line-up of films slated in to 2014, GEG is moving forward in a "Grand Way."
###