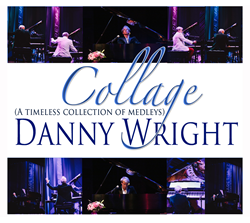 I've not only included my most popular medleys, but also created two new ones exclusively for this collection...
Los Angeles, CA (PRWEB) April 29, 2014
If your ideal weekend is a romantic evening under the stars on Friday night, dinner and the Opera on Saturday night, and Sunday in bed watching old movies, then Danny Wright's Collage (A Timeless Collection of Medleys) is the latest "must-have" music for you. Just released by WH Sound Studios as a double album in both digital and physical formats, it covers the world's best-known music, films and The Great American Songbook as only Danny Wright can do.
"I was inspired to create this collection thanks to the popularity of my 'Love Story' and Classical music medleys among fans," Wright said while taking a break from practicing for his upcoming Mother's Day shows at The Smith Center in Las Vegas. "I've not only included my most popular medleys, but also created two new ones exclusively for this collection: the 'Classical Love Songs Medley' and the 'Romance Medley.' These new medleys bring together my favorite pieces from childhood in a fresh new way that I can call my very own."
Wright's covers of Broadway, Film and Classical works made him famous beginning with the huge popularity of his best-selling Black & White series of seven albums, originally released by Moulin D'or Records, and recently re-released as special editions by Wright's own indie label. Reviewers of Wright's music often comment on his impressively wide-ranging repertoire (which also includes prolific original compositions), the warmth of his sound, his subtle timing, and his unique arrangements; all of the aforementioned are present in this beautiful collection, and one can feel Wright pouring his heart into each piece. There are 15 medleys, several of them surpassing nine minutes in length, seamlessly blending three or four pieces into an emotional wave of solo piano music.
Collage will immerse you in some of the greatest love stories of recent centuries, ranging from the romantic Henry Mancini Medley (Days of Wine and Roses, Breakfast at Tiffany's, Moon River) to the dramatic Phantom of the Opera Medley, to a tenderly wistful Barbra Streisand Medley featuring "The Way We Were", "Evergreen" and "People."
Fans of piano music will be delighted by Wright's artful presentation of his favorites from Love Story, Somewhere in Time, The King & I, Out of Africa, Porgy & Bess and many more, all expertly intertwined with his heart-wrenching arrangements of Classical works by composers like Pachelbel, Beethoven and Rachmaninoff.
Collage is available for download via most fine music retailers with a suggested retail price of $9.99, and in physical CD format purchased directly from WH Sound Studio at 702-724-0918.
Visit Wright's website to find upcoming concerts in the Las Vegas or Chicago area, and to order specialty gifts for Mother's Day, from custom songs to luxurious gift baskets including the album A Mother's Love.
Links:
iTunes: https://itunes.apple.com/us/album/collage-timeless-collection/id845535554
Amazon: http://amzn.to/1fvPkid
Track Listing:
-Phantom of the Opera Medley: The Music of the Night / All I Ask of You / Wishing You Were Somehow Here Again
-Romance Medley: Theme from Love Story / Theme from Romeo & Juliet / Somewhere in Time
-Barbra Streisand Medley: The Way We Were / Evergreen / People
-Classical Love Songs Medley: Für Elise / Moonlight Sonata / Rhapsody On a Theme of Paganini / Pachelbel's Canon
-Somewhere in Time Medley: Rhapsody On a Theme of Paganini / Somewhere In Time
-Henry Mancini Medley: Days of Wine and Roses / Breakfast at Tiffany's / Moon River
-The King & I Medley: I Have Dreamed / We Kiss in a Shadow / Something Wonderful
-Salute to Freedom Medley: Bring Him Home / Can You Hear the People Sing? / Eternal Father, Strong to Save
-Porgy and Bess Medley: I Loves You, Porgy / Bess You Is My Woman / Summertime
-Out of Africa Medley: I Had a Farm in Africa / The Music of Goodbye
-Les Miserables Medley: Drink With Me / Empty Chairs At Empty Tables
-Gershwin Medley: The Man I Love / Someone to Watch Over Me / Rhapsody In Blue
-Heartland Medley: America (My Country, 'Tis of Thee) / Shenandoah
-Variations on Somewhere Medley: Somewhere / Somewhere out There / Somewhere in Time
-Phantom of the Opera Medley (Reprise): Think of Me / Angel of Music / All I Ask of You