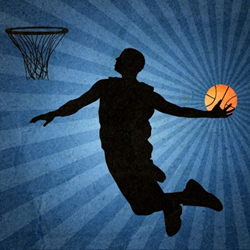 Sports Illustrated claims divorce rates for pro athletes are as high as an 80% probability.
Newton, MA (PRWEB) October 14, 2014
With theUnited States National Basketball Association (NBA) officially entering preseason mode, the two teams drawing most of the attention are the Cleveland Cavaliers and the Miami Heat. Superstar power forward Lebron James is currently in Rio de Janeiro for an exhibition game against his former team, but he is not the only one getting Brazilian basketball fans excited. Dwyane Tyrone Wade Jr., the ten-time All-Star guard of the Miami Heat is also drawing attention as one of the players to watch this season (1).
Wade arrived in Brazil a married man. As reported by CBS News, Wade walked down the aisle for the second time in his life; this time he tied the knot by marrying Gabrielle Union (2), a stunning and gifted actress who has appeared in films such as Love and Basketball, Bad Boys III and She's All That. For the beautiful Union, marrying Wade also meant a second walk down the aisle; however, this time she wanted to make sure that her ducks were in a row.
Both Wade and Union are very successful celebrities. Wade has helped the Miami Heat win the NBA Finals on three different occasions (3), and he has been a starter in the last four NBA finals. In 2008, Wade brought back a gold medal for the U.S. that he earned with his teammates during the 2008 Olympic Games in Beijing. In addition to being one of the most celebrated NBA players of the 21st century, Wade is also known to be a dedicated businessman who handles lucrative endorsement deals and negotiates his own NBA contracts with a clear vision of his financial future. Aside from endorsing Nike basketball shoes, Wade has also launched his own line of socks and neckties (4). When adding up his contracts, salaries, performance bonuses, endorsement deals and investments, Wade's net worth could easily reach $100 million (6).
Union, for her part, is no slouch when it comes to earning her keep as a Hollywood celebrity. ABC News has estimated her net worth to be around $12 million (5). She has been very active in film and television appearances since the late 20th century; in fact, her professional career spans longer than that of her new husband, and although she may not earn as much as he does, she professes to be much better than Wade at financial planning. For example, reports or Union and Wade's wedding ceremony, which was attended by Lebron James, do not paint a picture of lavishness (2). By all accounts, it was a modest ceremony that took place only after Union resorted to full-court press to convince Wade to sign a prenuptial agreement (5).
The lovely actress even went on television and told viewers about her premarital financial planning. Months before the wedding, Union appeared on the Arsenio Hall Show, where she spoke frankly and candidly about her insistence on a prenuptial agreement. Wade may not have been too enthused in the beginning, but Union made it clear that she would only tie the knot once a premarital contract had been properly executed (5). Union explained to Arsenio Hall and his television audience that she believes in an individual's right to protect any assets acquired before marriage. Besides, Union added, she learned about the need of premarital asset protection not only from her previous marriage but also from Wade's spectacularly expensive divorce.
Rocco Beatrice of UltraTrust.com, agrees with Union's sentiment to a certain extent: "Here we have a smart and beautiful woman who wants to make sure that she will be able to enjoy and control everything she has worked so hard to obtain prior to meeting Wade. On the Arsenio Hall Show, she jokingly mentioned that she had never seen her new husband balance a checkbook and that he took financial education tips from Lebron James. All jokes aside, we are seeing more people who share Union's philosophy with regard to defining and protecting personal property before marriage. This does not mean that we are turning into generations of tightwads; this is rather a growing movement to make conscious financial decisions."
Mr. Beatrice is the Managing Director of Estate Street Partners, LLC, a wealth management and estate planning firm that operates UltraTrust.com; he continues his comments on the Wade/Union prenuptial agreement: "Kudos are in order for Union and her desire to clearly define what is rightfully hers and his; our staff, however, cannot support her choice of a prenup. If she wanted to secure asset protection and control over her property before getting married, we would have recommended that she and Wade each created irrevocable trusts."
"Our office has seen far too many instances of prenuptial agreements failing to hold up in court," explains Mr. Beatrice, "there are numerous law firms working on a contingency basis that will gladly take on divorce cases involving prenups. The body of case law surrounding prenups that have been successfully set aside continues to grow, and in many cases the court invalidates these agreements the moment they are introduced. Therefore, married couples are often negatively surprised to find that all the time, effort and many they put into their prenups can easily be set aside."
In conclusion, Mr. Beatrice states: "We see too many celebrity couples getting prenups when they should be getting irrevocable trusts instead. Unlike prenups, irrevocable trusts are highly unlikely to be set aside since they essentially take the troublesome concept of ownership away from spouses. Should Wade and Union ever get divorced, which is not something we would ever like to see, their prenup may come back to haunt them. This never happens with irrevocable trusts created prior to marriage because their unique asset protection structure. In divorce court, a judge merely looks into an irrevocable trust to check if any marital assets were improperly transferred therein. That's it; there is nothing for skilled divorce lawyers to attack."
About Estate Street Partners (UltraTrust.com):
For 30 years, Estate Street Partners has been helping clients protect assets from divorce and frivolous lawsuits while eliminating estate taxes and probate as well as ensuring superior Medicaid asset protection for both parents and children with their Premium UltraTrust® Irrevocable Trust. Call (888) 938-5872 to learn more.
#
1. espn.go.com/nba/story/_/id/11668059/lebron-james-awkward-preseason-reunion-heat 10/9/14
2. cbsnews.com/news/gabrielle-union-and-dwyane-wade-get-married/ 09/01/14
3. nba.com/playerfile/dwyane_wade 9/29/14
4. businessweek.com/articles/2013-11-14/sportsman-gone-sartorial-dwyane-wade-tries-the-necktie-game 11/14/13
5. abcnews.go.com/Entertainment/gabrielle-union-making-dwyane-wade-sign-prenup/story?id=22480125 9/29/14
6. forbes.com/sites/aliciajessop/2014/05/15/leading-the-miami-heat-on-the-court-to-a-fourth-consecutive-eastern-conference-finals-appearance-off-of-the-court-dwyane-wade-makes-his-mark-in-the-fantasy-basketball-camp-marketplace/ 9/29/14