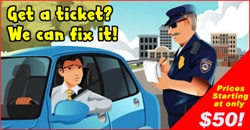 St. Louis, MO (PRWEB) August 23, 2013
FixMyTicket.com, one of the websites for the St. Louis traffic law firm (888)TRAFFIC, LLC, an aggressive team of lawyers representing persons in St. Louis County, St. Charles County, Jefferson County and Franklin County, has been greatly expanded to provide comprehensive information to visitors in three key areas. It has new information regarding its DWI defense program, the Missouri Driver's License point system and the fees it charges for reducing and resolving various traffic tickets and driving infractions.
DWI arrests, or Driving While Intoxicated, are serious charges with lasting consequences and must be vigorously defended, especially when the accused is innocent or somehow had their legal rights denied during the arrest process. The traffic ticket lawyers behind FixMyTicket.com give each and every one of their clients the best possible defense, regardless of the circumstances that led to them being charged with a DWI or other serious driving charge. The St. Louis traffic law firm's attention to detail and thorough understanding of how St. Louis DWI clients are often arrested allows them to provide an unparalleled legal representation for DWI, driving while revoked and driving while suspended charges.
Regardless of how large or small the driving offense may be, FixMyTicket.com provides the one-stop online solution for fixing these problems. Motorists who have been ticketed for any reason in the St. Louis metropolitan area, or arrested for a serious driving offense, are encouraged to visit FixMyTicket.com for complete information on the consequences of that ticket or arrest, how their St. Louis DWI attorneys can represent them and ultimately fix that problem, and the costs to do so.
About (888)TRAFFIC, LLC
(888)TRAFFIC, LLC provides complete legal services relating to driving, from reducing St. Louis area speeding tickets to representing those injured in a motor vehicle accident. As an experienced attorney, he is able to provide unparalleled legal representation to St. Louis and other Missouri drivers at highly competitive prices. The St. Louis traffic law firm handles speeding tickets, stoplight and stop sign tickets, driving while intoxicated (DWI), driving while suspended and other types of moving violations and driving infractions in St. Louis, St. Charles and Jefferson Counties. The St. Louis-based traffic law firm will provide no-cost consultations to those in need of a traffic lawyer in Missouri. They may be reached at 1-888-TRAFFIC or by visiting the firm's website at http://www.fixmyticket.com.