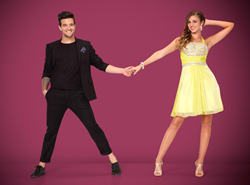 This season's contestants are the best group of celebrities in 10 seasons. The clients we have spoken to feel like a win by any of the contestants could lead to some interesting engagements. - Evan Morgenstein
New York, New York (PRWEB) September 16, 2014
Since the first season hit the air in the summer of 2005, ABC's Dancing with the Stars franchise has saved careers and built others, like the incredible brother sister duo of Julianne and Derek Hough. However as CelebExperts points out, simply winning the Mirror Ball Trophy doesn't guarantee a financial windfall from corporations looking to cash in on the huge audiences that follow the show.
CelebExperts CEO Evan Morgenstein remarked, "This season's contestants are the best group of celebrities in ten seasons. The clients we have spoken to feel like a win by any of the contestants could lead to some interesting engagements. My pick is Sadie Robertson because the Duck Dynasty family and franchise supports its own."
What the consumer wants in a celebrity spokesperson is as different as the celebrities themselves. The following is CelebExperts' Top 5 potential winners for this upcoming season whose marketing upside would skyrocket with a DWTS win:
#5. Lea Thompson: Back to the Future; how perfectly stated. Since filming the hit 80's trilogy, Thompson has been in over 50 films and numerous TV shows. Now 53 years old and married with two daughters of her own, she has massive corporate appeal for skincare, household products and health products such as Probiotics.
Twitter Followers: 74,358 Facebook Likes: 4,703 Instagram Followers: 60,250 Klout Score: 83
#4. Janel Parrish: Say Pretty Little Liars to any brand manager and they say the same thing: sales gold mine! The vast viewer demographic/fan base of shows like Pretty Little Liars and Vampire Diaries have created some of the hottest celebrity endorsers in recent memory, including Lucy Hale and Nina Dobrev.
Twitter Followers: 762,308 Facebook Likes: 37,989 Instagram Followers: 1,147,811 Klout Score: 79
#3. Bethany Mota: Social media mavens are making their way onto TV screens! With 7 million YouTube subscribers and several major corporate endorsements already, a win could be the linchpin for DIY diva Bethany Mota's career into the mainstream!
Twitter Followers: 1,956,798 Facebook Likes: 1,428,271 Instagram Followers: 3,807,269 Klout Score: 80
#2. Alfonso Ribeiro: Cue The Fresh Prince of Bel Air re-runs and limber up for the Carlton Dance! Will Smith's notorious cousin Carlton from the cult classic TV series has the personality, flamboyance and face recognition to command the celebrity spokesperson space with a win on DWTS.
Twitter Followers: 113,046 Facebook Followers: 577,345 Instagram Followers: N/A Klout Score: 81
#1. Sadie Robertson: Can you say Rock Star? If the daughter of Will Robertson from Duck Dynasty wins, she will be the talk of the Redneck Riviera from Florida to the Louisiana Bayou. If you love the Robertsons and what they stand for, Sadie is the Queen of the congregation! Her movie star good looks and down to earth personality helped the Duck Dynasty clan pump out over $400 million in licensed merchandise sold in 2013!
Twitter Followers: 1,285,863 Facebook Fanpage Followers: 256,894 Instagram Followers: 858,422 Klout Score: 68
As is the case with many of the DWTS winners, fame is like a flame in a hurricane; it's fleeting. Yet these 5 celebrity contestants have the potential to parlay a win into careers that dwarf their current marketability. Polling companies have already begun analyzing the new contestants to figure out who will strike a chord with consumers and ultimately who is going to produce the biggest ad campaign ROI.
About CelebExperts
CelebExperts is a leading consulting firm dedicated to demystifying the celebrity acquisition process and finding creative solutions to effectively market your brand leveraging the power of celebrity. For more information on how your brand could leverage a Dancing with the Stars contestant or any other celebrity talent, please contact us at consulting@celebexperts.com or give us a call at (919)459-5426.