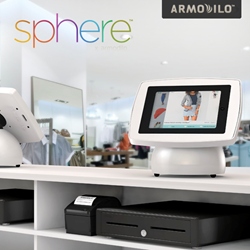 This is a great opportunity to bring back old-school customer service in a fast paced digital world and show retailers how to embrace digital technologies such as tablets within their store environments
Waterloo, ON (PRWEB) March 03, 2014
Armodilo is excited to be featuring their products at DX3 in Toronto Ontario from March 5-6, 2014. Armodilo Display Solutions will be exhibiting their highly versatile, lightweight and multiple tablet-capable kiosk solutions, perfectly suited for digital marketing, advertising, and retailing.
Armodilo will be featuring its Armodilo(rt) line of tablet stands as well as its new Sphere™ tablet stand within the Mobile Innovation Store at DX3. The Mobile Innovation Store is an exhibit where Bluetooth iBeacons, mobile POS, loyalty apps and dynamic displays will interact together to create a vibrant retail experience.
"We're thrilled to have this opportunity to showcase our products in the Mobile Innovation Store and the Innovation Partner Booth," says Iles Guran, Founder and President of Armodilo Display Solutions. "This is a great opportunity to bring back old-school customer service in a fast paced digital world and show retailers how to embrace digital technologies such as tablets within their store environments," explains Guran.
Armodilo will be showcasing its brand new tablet stand Sphere to feature in the Innovation Store. "Sphere is our new point-of-purchase tablet stand designed specifically for retail environments," Guran explains. "It offers both a quirky, fun design and a practical, secure way to use a wide variety of tablets."
Loyalty app-maker Thirdshelf is taking the lead and will be featuring their tablet software encased in Armodilo's tablet display stands. Armodilo and Thirdshelf, along with a variety of other partners, will come together to create the entire experience.
Come experience the Mobile Innovation Store and visit us in booth #424 – We look forward to meeting you!
About Armodilo Display Solutions
Armodilo Display Solutions is a multiple award-winning tablet display manufacturer located in Ontario, Canada. It offers a variety of tablet display stands and accessories for tradeshow, event, retail and corporate markets. Armodilo sets itself apart by creating highly refined products for discerning brands around the world.