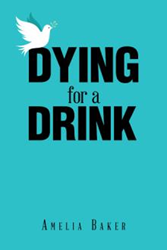 CARDIFF, Wales (PRWEB) October 17, 2018
Wanting to give other alcoholics and addicts hope, Amelia Baker wrote "Dying for a Drink" (published by AuthorHouse UK) about her own struggle with alcohol and reaching sobriety. The book is available for purchase at: https://www.amazon.com/Dying-Drink-Amelia-Baker-ebook/dp/B07DYKPQ52.
The author, telling her own story, writes of time spent in multiple rehabs, both in the United Kingdom and Sydney, Australia. The memoir depicts how she hurt her loved ones by her behavior — she describes isolating herself from everyone, dreading phone calls and not being present for her children — and how they worried she would die from drinking too much. Baker recounts the love, support and encouragement her friends and family gave her as she continued to relapse. It chronicles, too, her sense of freedom and surrender and hope amid the sobriety from which she is sharing her journey and the beginnings of relationships repaired, with both loved ones and self.
"Hospital beds in the NHS (National Healthcare System) are increasingly being taken up by patients with injuries sustained whilst drinking or taking drugs. There is a serious lack of public rehabs, and the waiting lists can be anywhere between 3-6 months. Many addicts die before a place becomes available," Baker says, adding. "The surrender, and the hope of physical and emotional sobriety, is a precious gift, which, I believe all addicts deserve, and hopefully by reading my book, they will gain the courage to tackle their addiction."
"Dying for a Drink"
By Amelia Baker
Hardcover | 6 x 9 in | 156 pages | ISBN 9781546293798
Softcover | 6 x 9 in | 156 pages | ISBN 9781546293781
E-Book | 156 pages | ISBN 9781546293774
Available at Amazon and Barnes & Noble
About the Author
Amelia Baker is a 52-year-old woman suffering from a chronic, progressive, and often fatal disease. She's battled alcoholism for 12 years and has been medically detoxed 11 times, eight in rehabs and three in hospital. She is now free of alcohol and drugs. She's been married twice. Together she and her first husband had two children — a son, 23 and a daughter, 20. She lived in Australia for over 20 years as a stay-at-home mum. After breakdown of her first marriage, she married a man she'd met in AA and divorced after he relapsed and abused her. She has since moved back to the United Kingdom.