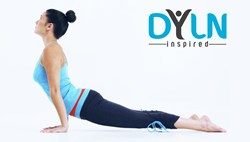 The next generation of activewear. Committed to making healthy living simpler.
Costa Mesa, CA (PRWEB) December 09, 2013
DYLN Inspired has announced the next generation of sports and lifestyle apparel, with the launch of its women's activewear collection through Indieogogo's international crowdfunding platform. Having developed and embedded exclusive far-infrared nano-technology within its VitaPearl fabric, DYLN Inspired's activewear interacts with the body to increase micro-circulation and muscle oxygenation.
By incorporating advanced properties that offers inherent performance capabilities into a collection of beautifully designed activewear, DYLN Inspired raises the bar when it comes to healthy and active living. The VitaPearl fabric integrates exclusive nano-technology with far-infrared, which is a very specific wavelength known for its healing and health-promoting properties, enabling the activewear to increase microcirculation and oxygenation in the cells when the fabric interacts with the heat naturally emitted from the body. Preliminary testing using Medical Thermal Imaging, also known as Thermography, showed the changes and improvement in microcirculation on test subjects after wearing a DYLN Inspired tight and tank for 30 minutes while only sitting. Nano-pearls are also embedded within the VitaPearl fabric, which produces a luxuriously soft texture making it one of the most comfortable fabrics.
"More than ever, people are seeking healthier and more active lifestyles, and our vision and commitment is to make healthy living simpler," said Dorian Ayres, Founder of DYLN Inspired. "Whether its practicing yoga, cycling, juicing, or opting for more holistic and natural alternatives to the annual flu shot, we are all looking to improve and maximize our quality of life. What we have done is combine health with highest quality and fashionable activewear, allowing people to maximize their heath and fitness goals, both in and out of the studio or gym."
DYLN Inspired began in 2011 when founder and visionary, Dorian Ayres, teamed up with David Walker, who has an extensive background in holistic health, to embed revolutionary health technology within fabric, activewear, and accessories. Having embraced a holistic lifestyle and incorporating yoga to his daily routine, Dorian wanted to bring access to healthy apparel and accessories for those seeking to enhance their well-being—in the most attractive way.
DYLN Inspired's women's activewear line, a 2014 Spring/Summer collection, is available now for pre-order through its Indiegogo campaign, where the funds received from the campaign will be used towards production costs. The apparel production is scheduled to arrive early February 2013. The activewear collection includes a wide array of styles and colors for yoga and any other physical activities, while having the design versatility to be worn throughout day in total comfort. To view the campaign, visit http://igg.me/at/dyln.
About DYLN Inspired:
DYLN Inspired develops, designs, manufactures, and sells advanced activewear and accessories to health-conscious and physically active consumers. For the past two years, DYLN Inspired has been developing its core fabric technology, used within its VitaPearl fabric, and first women's activewear collection that will be debuting early 2014. DYLN Inspired is pursuing an e-commerce and national wholesale retail strategy, with initial target retailers such as upscale gyms, fitness studios, resorts & spas, and boutiques. For more information, please visit http://www.dylninspired.com or contact Dorian Ayres at dyln(at)dylninspired(dot)com or 949-209-9401, ext. 201.