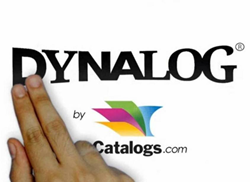 Catalogs.com plans to showcase the Dynalog's high ROI performance to apparel, footwear and accessory brands during MAGIC. - Richard Linvesky
Fort Lauderdale, FL (PRWEB) August 12, 2015
Catalogs.com, the Internet's most respected catalog shopping authority, will introduce the Dynalog dynamic catalog to designers and retailers at the Las Vegas MAGIC trade show August 17, 18 and 19. The highly interactive, responsive digital catalog platform, which is already producing high returns on investment for major retailers across the country, will become available to high-end apparel, footwear and accessory brands.
"MAGIC is an extremely popular show – it's the place for up-and-coming and established designers and companies to make connections. We're introducing the Dynalog at the show because it's proven extremely useful for fashion retailers such as Jockey, bebe, Jos. A. Bank and Trina Turk," says Richard Linevsky, co-founder of Catalogs.com and the Dynalog.
One of the reasons Dynalog has become so popular among retailers is that it's simple to update, it's mobile friendly, and it's extremely cost-effective in delivering an online shopping experience.
"We've been really pleased with the innovative ways people are using the Dynalog. Stores love it because they don't need to reformat PDF catalogs that they can only use once, and it results in a really aesthetically pleasing look. The Dynalog is responsive to smart phones, tablets and laptops," he adds.
Dynalog, already in widespread use across the fashion, food and home decor industries, as well as many other verticals, features a slick, purely digital format that's easy for users to navigate and creates hard-hitting ROI for retailers.
According to marketing superpower Kapost, interactive content is 23 percent more likely to educate buyers, 33 percent more effective at differentiating a brand and 21 percent more likely to be shared across social networks than passive content is. With interactive products and descriptions that respond to user behavior, the Dynalog fits all those metrics – and, according to Ion Interactive, that type of content generates conversions about 70 percent of the time.
"What we're facilitating is a necessary shift from outdated PDF and paper catalogs. Those things are expensive, and they don't have a very long shelf life. Unlike unresponsive PDF catalogs, the Dynalog regenerates itself every time a client adds new products and shoppers are instantly engaged as soon as they view its images," says Linevsky.
The shift is indeed necessary, particularly when it comes to the fashion industry. Millennials and others who drive commerce with their purchasing power in the U.S. spend 51 percent of their time browsing on mobile devices, according to Smart Insights. Forty-two percent of the time, they're on desktop computers. Between July and December of 2014, the number of people accessing retail sites from a combination of mobile and desktop devices jumped 4 percent, an almost unprecedented growth that could be due to people "multi-screening," or accessing multiple devices simultaneously.
The MAGIC trade show, a semi-annual assembly of UBM Advanstar Fashion Group, is one of a trio of international shows of its kind. The company's other shows, attended by the world's most famous names in fashion, include PROJECT in New York and ENK International. These shows attract about 250,000 domestic and international buyers and press members, and they're a mecca for nearly 10,000 design companies.
"This is extremely exciting for fashion retailers. We've seen major brands switch to the Dynalog and enjoy immediate results, and we're looking forward to extending its reach at MAGIC," says Linevsky.
About Catalogs.com
Catalogs.com has connected shoppers with the brands they love and the products they need since 1996. With the company's newest innovation, the Dynalog, it provides easy, accessible and interactive shopping experiences for over 700 major and specialty retailers via mail, online and mobile platforms.