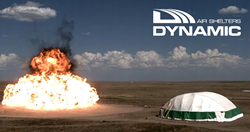 By representing Dynamic Air Shelters' blast-resistant shelters, Safehouse will expand their line of habitat offerings to the broader, international market.
Calgary, Alberta (PRWEB) April 19, 2016
Dynamic Air Shelters, Inc., the number one manufacturer of safety-compliant, air-inflated, blast-resistant shelters for the Oil and Gas industry announces the finalization of a distributor deal with the global market leader in engineered solutions for working safely in hazardous environments: Safehouse Habitats.
Primarily engineered to be the most efficiently portable shelter for extreme environments, Dynamic Air Shelters has become the "go-to" manufacturer of blast-resistant shelters that meet the stringent safety needs of the industries of Oil and Gas, Military, First Response, and more. Independent testing in numerous live field explosions has proven that Dynamic Air Shelters' resilient air shelter design, and its elimination of the rigid and destructive components used in other conventional solutions, keeps personnel safer.
Specialized for rapid deployment and easy set-up on Oil and Gas work sites without the use of cranes or heavy-lifting equipment, Dynamic Air Shelters' air-inflated structures fully comply with, and in some situations exceed, the mandates dictated by API RP 756. Providing protection from blasts up to a verified 11.5 psi, the shelters are also resistant to ballistics, hurricanes, extreme arctic and extreme heat environments, fire, and are earthquake proof. Dynamic Air Shelters are also suitable for use as shelter-in-place protection from toxic Hydrogen Sulfide (H2S) and other toxic gasses.
"Our partnership agreement with Safehouse Habitats represents an exciting step in Dynamic Air Shelters' mission to provide safety and protection in extreme environments globally. By representing Dynamic Air Shelters' blast-resistant shelters, Safehouse will expand their line of habitat offerings to the broader, international market. I look forward to this next chapter in our company's evolution," said Jason Sanchez, Vice President of Sales and Marketing at Dynamic Air Shelters, Inc.
Supporting the world's foremost Oil and Gas organizations with world-class technology, Safehouse Habitat's expertise in providing innovative and compliant solutions for safe working in hazardous environments enables their clients on every continent around the globe to stay on the forefront of safety and production.
Commencing April 1, 2016, Safehouse Habitats will market and supply Dynamic Air Shelters' products and services throughout its broad, global footprint spanning over 30 countries.
For additional information about the entire scope of Dynamic Air Shelters' groundbreaking products and services, or to request an interview with the company's principals, direct inquiries to Juliana Herman, Dynamic Air Shelters Marketing Director, via email: JulianaH@DynamicAirShelters.com
ABOUT DYNAMIC AIR SHELTERS, INC.
Dynamic Air Shelters has been providing protection and safety for the at-risk workforce, their equipment, and their environment for the past 15 years. Dynamic Air Shelters' blast-resistant shelters meet the strictest safety standards, providing protective indoor space – and can withstand the harshest conditions in tropical hurricane zones, the remote Arctic Circle, and on plant sites with inherent hazards. Several independent live field tests have confirmed Dynamic Air Shelters' air-inflated structures' ability to defend against a serious explosive threat and withstand high-proximity impact. Dynamic Air Shelters' blast-resistant shelters are considered to be the best solution to comply with the American Petroleum Institute (API 756) recommended guidelines.
Dynamic Air Shelters is a ISO 9001 2008 Certified manufacturer of flexible industrial solutions – ensuring the highest level of quality management systems are in place to serve its customers and stakeholders. The company serves several specific industries: Oil and Gas, Industrial, Construction, Mining, Military, Warehousing, Educational, Sports Facilities, Trade Shows, Aircraft Hangars, and Disaster Recovery/First Response with approximately 100 employees, and currently fields a significant footprint in Canada, United States, Europe, Australia, Japan, Russia, Azerbaijan, Netherlands, Qatar, Afghanistan, Cypress, South Africa, United Kingdom, and Trinidad.
Dynamic Air Shelters' manufacturing is conducted in North America with facilities in Canada and the USA, and offices in Calgary, Alberta; Grand Bank, Newfoundland; and Houston, Texas.
ABOUT SAFEHOUSE HABITATS (SCOTLAND) LTD.
Safehouse Habitats (Scotland) Ltd is a leading international safety technology company headquartered in Dundee, Scotland, with operations in over 30 countries globally.
Safehouse's mission is to protect people, preserve assets and improve production by providing engineered solutions that ensure working in a hazardous environment is universally safe.
The company's range of products and services follow the hierarchy of control to offer engineered protection measures that mitigate the risks of working in a number of hazardous environments, and have helped deliver more than 10 million hours of safe productivity since 2001.
Contact:
Juliana Herman, Marketing Director, Dynamic Air Shelters, Inc.
Email: JulianaH@DynamicAirShelters.com
###