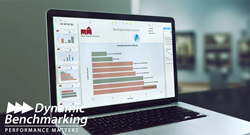 "We didn't know how our members would react to a new (salary survey) format. We're so pleased with their obvious willingness to participate without hesitation."
Windham, NH (PRWEB) May 25, 2016
Dynamic Benchmarking, a provider of customized online benchmarking and reporting solutions, is pleased to announce the launch of a new, interactive benchmarking tool for the Maine Municipal Association (MMA). The Municipal Salary Survey will compile data and provide customized reporting on salary and benefits for up to 13,000 municipal officials and employees in the state of Maine.
MMA is a voluntary membership organization offering an array of professional services to municipalities and other local governmental entities in Maine. Of the 491 towns and cities in Maine, 486 are MMA members.
"Our organization not only provides legislative advocacy at the state capitol for our members, we are also a key training and informational resource," comments MMA Director of Communication and Educational Services, Eric Conrad. "Benchmarking has been a part of our member services for 55 years and we felt it was time to update and modernize our salary survey process."
The Municipal Salary Survey had traditionally been conducted completely on paper. Questionnaire forms would be mailed out to, and returned by, members with their answers all compiled by hand into an Excel spreadsheet. Results would ultimately be published in a 200-300 page report accompanied by an Excel spreadsheet compact disc.
"It was a very tedious and time consuming process," adds Conrad. "When the individual who headed this project retired, we saw it as an opportunity to explore new processes."
It was at this time that the MMA staff saw a demonstration of a benchmarking solution that Dynamic Benchmarking had created for another municipal association. They were immediately intrigued and went on to hire Dynamic Benchmarking to upgrade their benchmarking process.
"We could tell right away that it would be a great process," states Conrad. "The Dynamic Benchmarking team not only exhibited expertise in benchmarking, but also a willingness to learn about the ins and outs of our industry."
"Compensation in municipalities can be quite complicated because of the variety of job functions each entity encompasses," Conrad continues. "Add the numerous differences found in the operations of a small town versus a large city, and everything in between, and you have a wide range in the data being reported and the needs of each individual member. We were so pleased at how quickly Dynamic Benchmarking grasped these complexities and provided solutions that were ideal for our members."
The new Municipal Salary Survey has brought the entire data collection and reporting process online, virtually eliminating paper from the process. While previously, members were provided with a printed report and an Excel spreadsheet, they can now create customized reports on the fly in a variety of formats using the data sets that are most relevant to their individual needs.
Response to the survey has been overwhelmingly positive with over 120 members already having supplied data. In fact, twenty-five members completed the survey on day one of data collection.
"We didn't know how our members would react to a new format," says Conrad. "We're so pleased with their obvious willingness to participate without hesitation."
The survey will be open for data collection until June 30, 2016, at which time MMA will review data for quality and ultimately open the platform for reporting. MMA also plans to demonstrate the platform for members at its Human Resource and Management Conference in June.

About the Maine Municipal Association
The Maine Municipal Association (MMA) is a voluntary membership organization offering an array of professional services to municipalities and other local governmental entities in Maine. MMA is a non-profit, non-partisan organization governed by an Executive Committee elected from its member municipalities. Founded in 1936, MMA is one of 49 state municipal leagues that, together with the National League of Cities, are recognized at all governmental levels for providing valuable services and advocating for collective municipal interests. For more information on MMA, please visit http://www.memun.org.
About Dynamic Benchmarking
Dynamic Benchmarking is a New Hampshire-based startup that delivers real-time benchmarking and data analysis solutions with the features and capabilities of custom software in a format that is easy to use and quick to deploy. Founded by a team of women entrepreneurs, Dynamic Benchmarking combines powerful, web-based technology with unparalleled industry expertise and customer care to provide best-in-class, peer-to-peer data comparison for small business, associations, large enterprises and any organization looking to tap into the knowledge of the crowd. Dynamic Benchmarking builds web-based solutions that are flexible, scalable and allow for meaningful comparison of financial and operational performance in a dynamic and interactive manner. For more information, please visit http://www.dynamicbenchmarking.com.