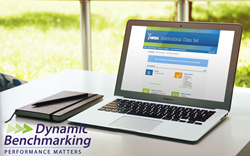 The new (platform) allows NIRSA members to instantly access data to answer questions about other institutions, or to compare themselves against programs similar in size and scope.
Windham, NH (PRWEB) March 23, 2016
Dynamic Benchmarking, a provider of customized online benchmarking and reporting solutions, announces the launch of a new and improved interactive benchmarking platform for NIRSA, the leading advocate for the advancement of recreation, sports and wellness in higher education. The NIRSA Institutional Data Set (IDS) will give NIRSA members point-and-click access to current and relevant data on collegiate recreation facilities, programs and services so that they may better benchmark and assess themselves and improve their operations and offerings.
By 2011, it became clear that the quantity and frequency of surveys being conducted by NIRSA members and by NIRSA Headquarters was leading to "survey fatigue" amongst members. The organization sought a better way to communicate aggregated information about all NIRSA member institutions. In October of 2015, NIRSA began working with Dynamic Benchmarking to revamp the association's Institutional Data Set platform. This new, comprehensive study collects, compares and reports information on institutional details, programs and services, participation, facilities and operations from its diverse membership. NIRSA members can be found at over 840 public and private, two and four-year institutions of higher education that serve more than 10.2 million students.
"The transition of the Institutional Data Set to the Dynamic Benchmarking platform serves as a significant step forward in making data more accessible to members," comments Pam Watts, NIRSA Executive Director. "With the generous support of donors of the NIRSA Foundation," she adds, "we've been able to take the Institutional Data Set to a new level."
The new platform, developed by Dynamic Benchmarking, offers NIRSA members a more user friendly interface to input and analyze data; easier reporting functionalities; and a myriad of ways to filter and compare data across institutions.
"The new Institutional Data Set allows NIRSA members to instantly access data to answer questions about other institutions, or to compare themselves against programs similar in size and scope," says Nicole Olmeda, Senior Assistant Director of Recreational Sports at the University of Texas at Austin and volunteer member of the NIRSA IDS Advisory Team. "By having access to this type of information, we can reduce the quantity and length of surveys conducted in the field of campus recreation, while also limiting the frequency of information requests currently experienced by many professionals."
Initial response to the newly released platform has been overwhelmingly positive, with a steady flow of member engagement since data collection started in late February 2016. Results will be available to participating members prior to the 2016 NIRSA Annual Conference & Recreational Sports Expo taking place in Kissimmee, FL, from April 3 - 6, where attendees will also be able to learn more about the platform's new functionality at the special session "The NIRSA Institutional Data Set – Exploring the value and capabilities of the new benchmarking platform." Full reporting and results will be available to all institutional members and, for the first time, professional and student members at non-member institutions will be able to experience the platform through access to question-by-question comparisons.
-- About NIRSA: Leaders in College Recreation (NIRSA)
NIRSA is a leader in higher education and the advocate for the advancement of recreation, sport, and wellness by providing educational and developmental opportunities, generating and sharing knowledge, and promoting networking and growth for our members. As college and university students develop into future leaders, NIRSA members support their learning and growth by fostering lifelong habits of wellbeing. Leadership, teamwork, dedication, and respect are among the many skills exercised by inclusive competition, fitness, and recreation. Since its founding in 1950, NIRSA membership has grown to comprise more than 4,700 dedicated professionals, students, and businesses, serving an estimated 10.2 million students. For more information, please visit http://www.nirsa.org.
-- About Dynamic Benchmarking
Dynamic Benchmarking is a New Hampshire-based startup that delivers real-time benchmarking and data analysis solutions with the features and capabilities of custom software in a format that is easy to use and quick to deploy. Founded by a team of women entrepreneurs, Dynamic Benchmarking combines powerful, web-based technology with unparalleled industry expertise and customer care to provide best-in-class, peer-to-peer data comparison for small business, associations, large enterprises and any organization looking to tap into the knowledge of the crowd. Dynamic Benchmarking builds web-based solutions that are flexible, scalable and allow for meaningful comparison of financial and operational performance in a dynamic and interactive manner. For more information, please visit http://www.dynamicbenchmarking.com.