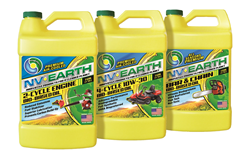 Our goal is to help preserve the Earth through sustainable products, which are an answer to some of our major pollution problems around the world.
Oxnard, CA (PRWEB) October 05, 2016
Scott Porter, founder of Dynamic Green Products, recently announced the environmentally conscious company has officially launched its NV Earth line of sustainable, high-performance, bio-based lubricants. "Each of our products is independently tested, biodegradable, made in America and much safer to use compared to traditional petrochemical alternatives," said Porter. "Our goal is to help preserve the Earth through sustainable products, which are an answer to some of our major pollution problems around the world. These products will dramatically lower environmental impact as it relates to water, air, plants, animals and, of course, humans. I want our kids and their kids to enjoy a clean planet and it all starts with making simple changes like reducing petroleum consumption."
NV Earth was born from a vision Porter had to create a clean, green and better performing product than petroleum, which he did with the help of his co-founders, Dr. Perumal Sekar, PhD and Mark Hornberger. Their goal was to produce a new category of green products, not just compete with the conventional market leaders.
"'Green' products are thought to be not as effective as the chemicals they are trying to replace," stressed Porter. "That's mainly because some manufacturers are only focused on producing a watered-down green product, to say it's green and keep cost parity with cheap chemicals. We are taking 'green' products to a new level where there is no compromise on performance. Sure, there will be a cost premium, but the value for our customers is measurable via personal safety, environmental impact and outstanding performance. We would rather produce a higher-cost product that meets and exceeds user expectations instead of selling a low-cost product that leaves them with buyer's remorse for 'going green.'"
NV Earth Bar & Chain bio-based oil has considerable performance benefits over petroleum, such as non-toxic, better lubrication, over 140*F higher flash point and ultimate biodegradability. It will reduce environmental pollution by 90 percent or more compared to petroleum chainsaw oils. NV Earth 2-Cycle Engine bio-based oil also has a higher performance VI than petroleum, a carbon footprint reduction of 35 percent or more and lower overall emissions.
NV Earth products were recently on display at the Bio-Based World Live event in San Francisco and met with international enthusiasm. Cities, parks and schools across the country have made the switch due to all the aforementioned benefits.
The first store to run with the NV Earth torch and lead the way was Green Thumb International in Ventura, CA. Green Thumb now uses it across all their new and repaired equipment after seeing its benefit for the machines with the increased safety measures it provides for the user. Other early adopters reaping the benefits include Line Gear Fire & Rescue, AutoBeGreen, JT Sales, WorldWide Sales Management, Citrus Heights Mower, The Tremont Group and 7C's Maintenance.
About Dynamic Green Products
Dynamic Green Products produces NV Earth 4-Cycle 10W-30 Engine Oil, 2-Cycle Engine Oil and Bar & Chain Lubricant, as well as cleaners and absorbents. Its products use renewable resources that reduce pollution and reliance on petroleum sources while eliminating or minimizing exposure to toxic chemicals. For more information, please call 1-844-NV-EARTH (68-32784), or visit http://www.nvearth.com. Dynamic Green Products is located at 3130 Paseo Mercado, Oxnard, CA 93036.
About the NALA™
The NALA offers small and medium-sized businesses effective ways to reach customers through new media. As a single-agency source, the NALA helps businesses flourish in their local community. The NALA's mission is to promote a business' relevant and newsworthy events and achievements, both online and through traditional media. For media inquiries, please call 805.650.6121, ext. 361.