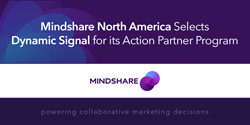 Our partnership with Dynamic Signal is another clear sign of how advocacy marketing is a critical part of the marketing mix, and is here to stay.
San Francisco, California (PRWEB) September 08, 2014
Dynamic Signal, the market leading advocacy platform for real-time content sourcing, management, and amplification, announced today that it has been selected by Mindshare North America, a WPP company, to be an Action Partner of Mindshare North America's THE LOOP, the agency's real-time content, curation and distribution platform.
"We are thrilled to be selected by Mindshare to be part of such an exclusive group of best-in-class partners," said Russ Fradin, CEO of Dynamic Signal. "Brands are jumping into the pool and engaging their advocates and communities because creating the content is simply not enough. Being part of this real-time, adaptive marketing offering allows us to partner with Mindshare NA and its clients to pave the way for marketers that are seeking a more creative and impactful way to gain exposure and hard ROI with their dollars."
Mindshare NA is creating the infrastructure for brands' growing need to create conversation and participate beyond 30 seconds of airtime and a flitting banner across a digital page. Dynamic Signal has created a platform in line with the principles of Mindshare NA's Adaptive Marketing philosophy. The company offers the best in class solution to brands looking to leverage their closest advocates, their own employees and communities that are already embracing and fans of their brands.
"Action Partners play a critical role for THE LOOP to harness data and insights into action to help drive distribution and optimization of paid media dollars," said Jordan Bitterman, Chief Strategy Officer of Mindshare North America. "Our partnership with Dynamic Signal is another clear sign of how advocacy marketing is a critical part of the marketing mix, and is here to stay."
Dynamic Signal's VoiceStorm application was chosen based on its ability to allow brands to directly engage with and empower their employees and customers as advocates. Within easy-to-use mobile and web environments, advocates can share company information, news and announcements with their connections and followers, adding more scale, reach and impact to a brand's social presence.
Brand-centric content shared by employees is clicked on 75 percent more than content shared via corporate channels and experiences nearly 50 percent more reach. And because it's a personal connection these posts are 40 percent more engaging.
The pairing of Mindshare NA's THE LOOP with Dynamic Signal will undoubtedly bring more exposure to scaled employee and consumer advocacy, an emerging category for marketers that is starting to penetrate the mainstream.
About Mindshare
Mindshare is a global media agency network with billings in excess of US$31.4 billion (source: RECMA). The network consists of more than 7,000 employees, in 116 offices across 86 countries spread throughout North America, Latin America, Europe, Middle East, Africa and Asia Pacific. Each office is dedicated to forging competitive marketing advantage for businesses and their brands based on the values of speed, teamwork and provocation. Mindshare is part of GroupM, which oversees the media investment management sector for WPP, the world's leading communications services group. Visit us at http://www.mindshareworld.com and follow us on MindshareInTheLoop, Twitter @mindshare_NA and facebook.com/MindshareNA.
About Dynamic Signal
Dynamic Signal is a Silicon Valley software company that provides VoiceStorm, a marketing platform that helps top brands partner with and leverage the social reach and influence of their employees, fans and customers to achieve their branding, marketing and commerce goals. VoiceStorm is the only comprehensive "OS for advocacy," a single platform for sourcing, managing and distributing content, for managing relationships with advocate groups, and for sharing via mobile apps. It's the only feature-complete, one-stop platform with everything needed to run a successful program: an advocate hub, gamification tools to engage advocates, and real-time reporting and insights on program participation and performance. Dynamic Signal's customers include top companies across entertainment & media, consumer packaged goods, financial services, fashion and beauty, high tech, and advocacy. The company, founded in 2010, is based in San Bruno, CA, and is comprised of a veteran management team and top-tier investors including Trinity, Venrock, Time Warner Investments, Rembrandt Venture Partners and Cox Media Group. Visit us at http://www.dynamicsignal.com and follow us on Twitter @dynamic_signal.