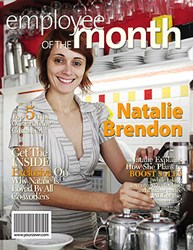 Thank you so much for the beautiful covers, we are going to present them to all the staff this Friday. Really excited about this.
Wilton, CT (PRWEB) September 27, 2013
YourCover offers 5 magazine cover templates that are specifically related to business and employees. In addition, there are at least 3 more magazine covers that can be customized for use in business situations. YourCover has been used by numerous corporations in the financial, chemical, printing, beverage and retail industries to reward and recognize staff members.
Following are several examples of which magazine covers have been used and how.
The Employee of the Month personalized magazine cover was used by one firm as a recognition award for employees that met a particular retail quota. A large chemical company created nearly 30 magazine covers to recognize staff members that had been with the firm for over 25 years. The human resources department created an individual cover for each employee based on their interests, some of the covers were for Hunting, others for Music, and still others for Travel, plus many others The back magazine cover then contained detailed information about the employee's career over the previous decades.
Two credit unions recently used the blank magazine cover template to create their own title. One named the magazine after their firm, the other used a phrase about going above and beyond. The first credit union asked the staff to provide adjectives describing their co-workers, those adjectives were then used on the magazine covers. The second credit union used similar headlines on all of the covers but then customized each individual's with more specific information about their work at the company.
YourCover recommends the following magazine covers for business purposes: Sales Performer, Safety Award, Employee of the Month, Retirement, Best Boss, Blank (Make Your Own Title) and Anniversary. Using a magazine cover as an employee award allows the company to capture a moment in time because of the personal qualities and information that can be included on the front cover. The magazine covers can be downloaded for self-printing at the office or YourCover can print and frame the magazine covers for a completed gift/award.