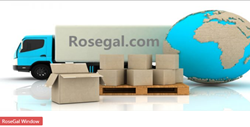 International Fashion E-commerce Websites Begin to Build faster and more effective Logistic Systems
Los Angeles, CA (PRWEB) December 29, 2016
With the internet being a powerful advertising and customer interaction platform, social sites and mobile apps have now begun playing a pivotal role in defining the changing fashion trends. This has changed the dynamics of advertising and marketing. Several ecommerce players have cropped up in recent times to meet the growing demand of the customers who look for modern and vintage fashions. Offering the latest fashion has been a major challenge for the ecommerce enterprises and the other two significant challenges are to keep the prices reasonably low and to introduce their own logistics network for ensuring faster delivery. A great deal of online shopping sites have now stepped up their games to attract customers who are connected with them through websites, social media pages as well as mobile apps.
Rosegal has boosted its logistic speeds and services by building its own supply chains. Chains are created in advanced cities with the latest technologies included. One piece of technology that the Rosegal supply chain is using is advanced learning algorithms. These algorithms have been programmed to understand when product inventory is running low and ordering more before big sales and other events. This ensures customers are always getting products that are in stock. Customers no longer have to order and find out later that the logistic speeds are backtracked through low inventory. Most products are now processed in 1-3 business days and this is up from 3-15 business days that used to be the norm.
Sammydress has introduced a new priority direct mail service. With priority direct mail customers can expect products much quicker, prices to be cheaper to ship, and for products to not be lost. Priority direct mail is available for customers in the United States, The United Kingdom, Germany, France, and more. Sammydress will begin rolling out more priority direct logistic locations in the next year.
Zaful takes affordable to the next level by adding free shipping on orders over $30 dollars. This gives customers even more incentive to shop online. Customers who spend $30 or more will receive products through standard mail. Customers can also get expedited shipping for spending $90 or more.
Customers with questions about any of the new logistic services can contact each site directly. For more information, customers can call zaful at its new phone number +(1)-888- 830-0888.
Related links:
http://www.rosegal.com/
http://www.sammydress.com/
http://www.zaful.com/shipping-info/