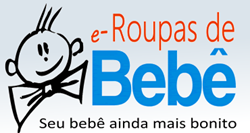 Seu Bebê Ainda Mais Bonito.
(PRWEB) January 04, 2014
e-Roupas de Bebe recently released a new line of formal and casual party dresses for kids. Mothers can choose from a wide range of party dresses that include Bridesmaid dresses, Infant Creeper dresses, Bellissimo Floral Dresses, and many more. Party dresses by e-Roupas de Bebe also include custom dresses for mothers and daughters.
First time mothers are often confused about choosing most fashionable dresses for their baby girls. The biggest reason behind the confusion is lack of credible stores that offer trendy clothing for babies. e-Roupas de Bebe, one of the leading online fashion stores for babies and mothers, recently released a new line of party dresses for kids, which makes the job of parents easier.
Some of the party dresses for kids include Bridesmaid Dress, Infant Creeper, Belissimo Floral Dress, Dress Butterflies, Cupcake Dress, and other Floral Dresses in red, blue, and pink. Mothers can also choose to order matching dresses for themselves from eroupasdebebe.com.
Talking about the problems faced by mothers in choosing fashion clothes for babies, one of the company heads said, "For mothers, one of the most difficult tasks is the selection of party dresses for girls, when they are about to celebrate a birthday, or when they are invited to a special event. Party dresses for girls are available in wide varieties of styles and designs on the internet, but it is still difficult to choose a dress."
Elaborating more on the importance of right clothing for mothers and babies, the marketing head said, "For women, the dress plays a fundamental role in the visual composition, both for casual moments as well as in professional life. For children, the dresses virtually have the same function, and some models enhance the natural beauty of the baby in a special way."
Mothers who want to make an online purchase of baby clothes can learn more about them on http://www.roupasinfantilfeminina.com.br. They can get all the tips, insights and latest trends on baby clothes and mother clothes on blog Roupas Infantil Feminina, which in turn, can help them in taking better decisions.
About the Company
e-Roupas de Bebe is a popular online baby clothing store that offers trendy clothes for both babies and mothers. The online store offers custom fashion clothes for both casual and formal occasions. The fashion store takes 10 to 15 days of grace period for preparing the custom clothes.
To know more about e-Roupas-de-Bebe visit http://www.eroupasdebebe.com/.
Contact Information.:
Name - Alex Dantas
Company - e-Roupas de Bebê
Phone Number. 551330610877
Email.: dantaspaixao(at)gmail(dot)com
Address.: MQ S Vicente, 39, SP 11310180 BRAZIL