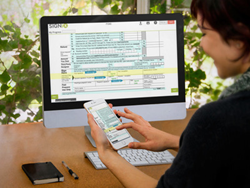 Our goal is to make the participants feel confident enough to utilize the new e-signature technology during the upcoming tax season.
CHATTANOOGA, Tenn. (PRWEB) October 19, 2016
SIGNiX, the leading provider of cloud-based Independent E-Signature™ solutions, announced today that they will host free webinars on Thursday, Oct. 27 and Tuesday, Nov. 15 to educate tax preparers on how they can use e-signatures to securely accelerate signing of tax returns while better serving clients, saving money on printing and postage, and reducing risk of fraud.
The webinars will focus on the basics of e-signatures, IRS regulations around e-signatures, the importance of e-signature security, the impact of e-signatures during the 2016 tax season, and user experience. Participants will receive one CPE credit.
Both webinars will begin at 2:00 p.m. ET. Speakers include the solution architect of a leading provider of customer-focused tax software and services, along with Leonora Williamson, SIGNiX's senior vice president of partner development.
The presenters will lead participants through a step-by-step explanation of:

How e-signatures can allow tax preparers to move closer to an all-digital process that offers robust identity authentication options (compliant with IRS standards)
How to file returns with secure document delivery – no more emailing SSNs
How to get tax returns processed and returned sooner
A detailed illustration of what the user will experience when utilizing e-signature technology within the specific tax preparation software
"Submitting tax forms electronically means clients can get their tax returns faster than ever," said Jay Jumper, president and CEO of SIGNiX. "We're excited to be offering this webinar series for our partner's customers while giving them the opportunity to earn one CPE credit. Our goal is to make the participants feel confident enough to utilize the new e-signature technology during the upcoming tax season."
To register for the free webinar, please visit https://www.signix.com/webinar-esignatures-in-taxwise.
###
About SIGNiX: 
SIGNiX, the most trusted name in Independent E-Signatures™, makes signing documents online safe and secure with comprehensive legal evidence permanently embedded in each document to eliminate any dependence upon SIGNiX. The company's cloud-based service uses patented technology to give businesses and organizations the most secure and legally defensible e-signatures available at a fraction of the cost of wet ink signatures. SIGNiX's products help the world's leading companies become more efficient, decrease risk and boost profits. For more information, visit http://www.signix.com. You can also follow up on Twitter @signixsolutions, LinkedIn, Facebook and Instagram.