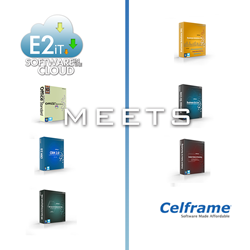 Join Investment Opportunity's at E2 IT and Celframe Software Products Today.
MOUNTAIN VIEW, CALIFORNIA (PRWEB) May 22, 2015
E2 IT provides the solutions that businesses, home offices and personal computers need. Supported by the founder of Celframe Software Products, E2 IT is working towards a brighter, better future for both companies, and many others that may wish to join in the Investment Opportunity.
Through the use of Celframe software products, business are able to be more efficient, and more productive than normal. When choosing to work with another company, and engaging with the market, they are offering new investment opportunities. Edward Ellis states, "Everyone: home, university, corporate business, needs software so If distributors and resellers work with us they will make great returns by marketing and selling our affordable Celframe software products."
What's more, Celframe is giving 40% of their revenue to partner distributors, unlike other competitors. Be a part of the new software products that are sweeping the nation.
E2 IT has Celframe's most current product range including Celframe Office – world's No 3 office suite, Celframe Security Products, Celframe CRM, Celframe Business Solutions, and other services that Celframe offers.
E2 IT is currently looking to expand into a much broader market. They are bringing Celframe to many more households, businesses, corporations and beyond to offer an affordable, working product that is both efficient and smoother than the current products on the market.
Edward Ellis states, "E2 IT offer affordable Celframe software 80% less cost than our competitors." Save yourself the trouble, go with a company that knows what they want, who to get and what to provide. Celframe likes to have partners not just distributors making money for them, so they feel more like family and not just employees.
E2 IT are looking for strong companies that wish to use and promote an award winning program. We are looking for those who want to become a part of something much bigger, something that is made to last, and something that is going to stand strong in the market. Edward Ellis says, "We look for partners who can deliver meaning, they have to be able to market, advertise and sell."
About E2 IT: E2 IT Distribution Inc. is Founded by Edward Ellis and Headquartered in Mountain View, California. E2 IT Products is the eCommerce division of E2 IT Distribution Inc., a Software Distribution Company focusing on bringing Software Products to the market in North America and other English Speaking Countries.
Website Links
Main: http://www.e2itproducts.com
Partnership: http://www.e2itproducts.com/#!partnership/c7lb