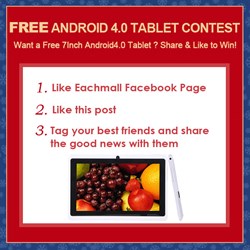 Shenzhen, Guangdoung, China (PRWEB) November 21, 2013
It isn't a surprise to see consumers excited about the holiday season as they get a chance to save money and win prizes. From promos and discounts to contests and free giveaways; there is a lot on offer and this year is no different.
Eachmall, a global retailer dealing in high quality products, is keeping up with the holiday spirit by holding a Facebook contest for consumes all around the globe. The announcement comes after the company's recent posting of Thanksgiving and Black Friday giveaways, implying that there is another chance to win something for free. The prize on offer: an Android tablet.
Eachmall marketing director Anna Xiong said, "The rules of the contest are fairly simple. Anyone who wants to win the tablet has to like the contest post, share it on their wall and tag friends on the shared post".
"The contest is going to go on for a month, and the winner will be selected after 30 days based on the count of the shares. The count of shares will be the number of times a participant managed to get the contest post shared by his peers. For example, if Jeff's post was shared 300 times by his social circle, and Anna's post was shared 250 times by her social circle, Jeff will be declared as the winner of the Android tablet".
Consumers with a Facebook account can participate by joining Eachmall's community. Details are available at: https://www.facebook.com/photo.php?fbid=579905378724747
Eachmall.com is a global retailer that supplies high quality products at reasonable prices to consumers all around the world. The products range from Apple accessories, consumer electronics, toy and gadgets to outdoor equipment, jewelry, watches and pet merchandise. The company has witnessed 120% growth during the last four years.