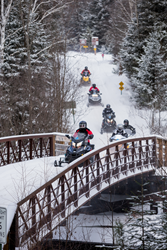 In addition to ice fishing, Eagle River is known for trails that support snowmobiling, cross country skiing, snowshoeing and fat tire biking.
EAGLE RIVER, Wis. (PRWEB) January 10, 2019
Eagle River transforms into the Snowmobile Capital of the World® every time the snow flies. Thousands of snowmobilers take to the area every year for their own adventures along 500-plus miles of groomed trails. Many of them and others will watch the 56th annual World Championship Snowmobile Derby at the World Championship Derby Complex from January 18 through 20.
New this year will be a different kind of a driving experience for those who enjoy speeding on snow and ice; a winter driving school on Dollar Lake called the Subaru Winter Experience. Two-day, one-day and personalized one-on-one options are available for avid winter drivers from February 12 to March 1.
In addition to snowmobiling, Eagle River is perhaps best known for ice fishing. Every year, hundreds of anglers set up their ice shacks on the World's Largest Chain of 28 Lakes, drill fishing holes and arrange tip-ups to haul in the catch of the day.
Cross country skiing, snowshoeing and fat tire biking are among the most popular activities during winter in Eagle River. With separate silent sport trails, these physical endeavors offer breathtaking views around frozen lakes and bountiful wildlife throughout wooded areas.
The Eagle River Ice Castle has been known to draw visitors from hundreds of miles away to capture its beauty near the railroad depot. Since the 1920s, a new design is created and built by the Eagle River Fire Department and qualified volunteers every year with ice harvested from Silver Lake. This undertaking is weather dependent and the fate of this year's castle is still being determined.
And for the 14th time, Dollar Lake will be the site for the Labatt Blue USA Adult Pond Hockey Championships in early February 2019. The tournament includes 30 outdoor rinks and thousands of participants competing on more than 300 teams across several brackets.
For more information about winter activities and events, contact the Eagle River Chamber of Commerce at 800-359-6315 or online at https://eagleriver.org/.