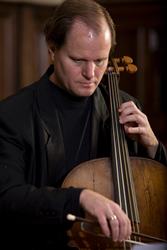 Saint Paul, MN (PRWEB) October 02, 2013
Ken Kulosa, a baroque cellist, will perform Bach Cello Suites Wednesday, Nov. 6 at the Coffee Concert Series presented by The Saint Paul Conservatory of Music.
The performance will run from noon to 1 p.m. at the University Club at 420 Summit Ave.
The Coffee Concert Series began in 2003 when creator Clea Galhano saw a need for a Conservatory performance series. Using her Twin Cities musical network, she started the dynamic noontime series that downtown Saint Paul audiences still enjoy today.
Kulosa's performance will mark the first show of the 2013-2014 season. Concerts are offered on the first Wednesday of each month from November to May. All are free and open to the public. After the show, concertgoers are more than welcome to stay for coffee, bagels, and the opportunity to meet Kulosa.
Concerts are made possible by the voters of Minnesota through a State Arts Board Operating Support Grant, and by generous donations from the Patrick and Aimee Butler Family Foundation, F. R. Bieglow Foundation, Cultural STAR Special Projects Grant, the Twin Cities Opera Guild, and an anonymous donor.
Other 2013-2014 concerts will feature a reed trio, chamber trio, and baroque trio.
About the company:
The Saint Paul Conservatory of Music is a music education center offering a wide range of musical instruction for all ages, in both individual and group settings. The faculty is of the highest caliber, including artists/teachers with well-established reputations. The Conservatory has systematically developed a music program with demanding, yet age-appropriate expectations, with the ability to effectively teach the youngest of students as well as prepare those seeking to become music majors. They are also able to meet the needs of students who are lifelong learners of music and music appreciation.