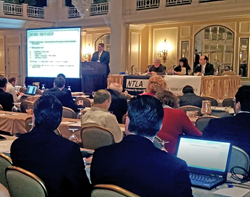 NTLA continues to provide strong sessions with relative content which directly impact my businesses practices in the tax lien industry. This is the most valuable conference I can attend.
New York, NY (PRWEB) September 09, 2015
With a full-day conference at the Le Parker Meridien in New York City, NTLA Symposium 2015 will offer practical solutions and expert insight on property tax lien management in the US. The NTLA is honored to have seasoned industry professionals from both sectors joining us as speakers and panelists.
Participants to include Bruce Bronster with Windels Marx Law, Harold Schultz with Citizens Housing and Planning Council NYC, Joel Cooper with Lepercq Financial, Katherine Crost Orrick with Herrington & Sutcliff, Albert Friedman with Alterna Tax Certificate Fund, Anne Kline-Lentz with City of Bridgeport Connecticut, William Donlin with Town of Cheshire Connecticut, Doug Gale with Terra Echelon, Kammie Verdolina with Township of Wall County New Jersey and TCTANJ, Tracey Marshall with Cass County Iowa and NACCTFO, David Reinhardt with Clark County Indiana and ICTA, Trey Gulledge with Tax Ease, Troy Ritter with Capital One Bank, Eric Cook with Stearns Bank.
NTLA Symposium 2015 is for investors seeking guidance in a specific state, established lenders or tax lien attorneys looking to discuss details on the latest laws and regulations, servicers or data providers looking to innovate and grow, or local government tax collectors aiming to bring value to your county property tax department.
What to expect:

Explore the benefits of tax lien auctions, bulk sales and securitizations
Dive deep into NYC's In Rem Foreclosures and tax lien securitizations
One sale, one winner-partner! When lien auctions don't seem practical – The Bulk Solution
Keynote Address: US Senator Christopher Murphy to address Ethics & National Tax Lien Economic Perspective
Lien by Lien auctions are the most popular method of selling tax liens in America
Talking Straight: Learn from the Lenders the core competencies expected of tax lien investors and servicers
NTLA Symposium 2015 Early bird pricing is ending today. Save $150 if you Register by September 9!
Click Here for more information on NTLA Symposium 2015 agenda, speakers, and sponsors.
Who should attend?
Tax Lien Investors, Tax Foreclosure Attorneys, Fund Managers, Tax Lien Lending Banks, Tax Lien Servicers, Technology Providers, Government Officials, Private Sector Executives