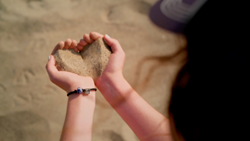 Connect to what you love
Dunsmuir, California (PRWEB) September 29, 2015
Northern California Company, Earth Bands, announced its official launch date September 4, 2015. Earth Bands began development in 2012 when Mark Vaughan asked himself a simple question while driving southbound on Interstate 5, "What could he do to re-inspire people?" The answer came to him when he saw the deep red dirt of the mountainside. He wanted to create a wristband made with iconic dirt and sand.
Earth Bands gathers dirt and sand form special places and use an ancient bead making technique to make Earthbeads. Each one of their Earthbeads is handmade using specific clays mixed with the dirt or sand.
Their goal is simple; create a fun and affordable wristband that connects people to special places they love and meaningful moments.
Their message; "Connect to what you love."
Their mission is to raise humanity's vibration by connecting people to what they love. i.e. their home states, beaches, important causes they want to get behind, or a favorite sport. They want people to take and share the message that by simply wearing an Earth Band you can empower yourself and elevate your awareness.
About Earth Bands
Earth Bands is happy to report that they have achieved their primary objectives; hand-made in America, USA sourced materials & services, Eco-Ethical products, with a focus on putting people back to work.
With this approach they choose to spend a little more money on their products, manufacturing and utilizing services here in the USA. Thus contributing to the US economy and the American labor force. Proving that manufacturing in the USA benefits us all in the end. With today's consumer spending trends, an American Made product really does matter.