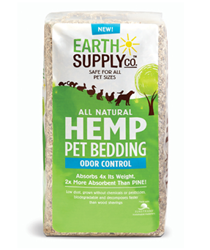 Hemp is the perfect material for animal bedding. It can absorb four times its weight.
LOUISVILLE, Ky. (PRWEB) August 30, 2018
Accelerated Manufacturing Solutions, Inc. recently announced a new hemp pet bedding product available at Walmart stores nationwide. The newly branded Earth Supply Co. is a high-performing, sustainable pet bedding made with Sunstrand Sustainable Materials. The all-natural material is highly absorbent, low dust, odor resistant, and grown without chemicals or pesticides. Earth Supply Co. Hemp Pet Bedding is safe for animals of all sizes and soft enough for eggs!
"This is an exciting time for pet bedding," says Chris McClain, Vice President of Accelerated Manufacturing Solutions, Inc. He added, "It's just a better product. Hemp is the perfect material for animal bedding. It can absorb four times its weight. That's twice as much as pine! It's also low-dust, reduces odor, and composts faster than pellets, straw, and pine shavings."
When asked of the new partnership, Dr. Trey Riddle, CEO of Sunstrand, said, "Hemp is one of the world's most versatile crops and has been for hundreds of years. It is absorbent, strong, light-weight, and rapidly-renewable. Animal bedding is just one of the many sustainable uses for hemp and we are excited to be working with Accelerated Manufacturing Solutions on this project."
The Earth Supply Co. All Natural Hemp Animal Bedding is currently available for purchase at Walmart.com and at Walmart North American retail locations, MSRP $4.99. For more information, visit http://www.earthsupplycompany.com.
About Sunstrand LLC:
Sunstrand is North America's leader in Sustainable Materials. The company sources rapidly-renewable crops, process them into customer specifications, and leverage these materials for use in plastics, animal care products, building materials, textiles, and more. Developed by composite engineers and material scientists with attention to detail and rigorous mechanical testing, Sunstrand product advantages include sustainability/green-messaging, light-weighting, reduced density, reduced cost, and improved performance. Sunstrand has operations in Kentucky, South Carolina and Alberta, Canada.
About Accelerated Manufacturing Solutions, Inc.:
Accelerated Manufacturing Solutions, Inc. (AMS) was founded by Cindy McClain in 2012 and is a Women's Business Enterprise National Council certified minority business. At AMS, our mission is to create value by developing and marketing new and innovative consumer products designed for better living. Earth Supply Co. is our first brand to launch within pet care. We are very excited to deliver mass consumers an all natural, highly sustainable product at a value!