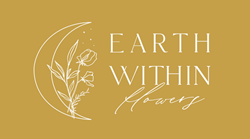 The new brand style was inspired from our wish to explore a more classic yet whimsical look that expresses our most current design concepts.
MISSOULA, Mont. (PRWEB) June 07, 2021
Earth Within Flowers, a Missoula-based flower shop, is pleased to announce the launch of their newly rebranded website and logo. The full-service wedding flower shop whose flower designs are inspired by nature has introduced a new brand design, including a new logo and a completely redesigned website. The redesign and rebranding better align with the shop's niche space in the floral design inspired by nature.
The new website features full-color photos of flowers and flower arrangements, improved navigation, and an improved shopping experience. It also features responsive navigation, enabling customers and site visitors to quickly find floral arrangements they like.
Shoppers can also browse Earth Within Flowers' selection of a la carte wedding flowers, flowers for delivery, wedding flowers, and even local workshops. "With the new website, we can finally bring a wider range of services to our customers. It also offers wedding clients a quick peek of our flower shop's booking schedules," owner and founder Melissa Lafontaine explained.
"The new brand style was inspired from our wish to explore a more classic yet whimsical look that expresses our most current design concepts. The moon and stars with the flowers express the sentiment of how we believe flowers are healing and add a bit of magic to everyday and exceptional moments. The moon graphic also blends with the branding of our sister non-profit project Earth Within Girls. The yellow and gold hues represent the soft, neutral, yet vibrant feel of our arrangements," she added.
The sweet pea flower is the owner, Melissa's favorite flower. She aims to incorporate this in as many of her designs as seasonally possible. Sweet peas represent pleasure and add an ethereal, soft touch to an arrangement.
The flower shop also provides delivery services for online orders. Earth Within Flowers emphasizes that the store does not add any convenience fees for ordering online.
More of the flower purchasing money goes toward flowers when a customer buys from a local florist. It offers customers more control over the transaction when dealing directly with the florist who makes the arrangement. This is not something people will receive when they order flowers from a national flower chain. Also, the value of buying local is the freshness and supporting our local economy as well as having unique blooms that blend into the natural beauty of the landscape.
Earth Within Flowers is located in Missoula, Montana, and has been owned and operated by Melissa Lafontaine since 2016. The flower shop is now available and open for booking on 2022 wedding dates.
About Earth Within Flowers
Earth Within Flowers is a flower shop located in Missoula, Montana. The shop aims and value sourcing their flowers from local farmers and natural areas to completely grasp the beauty of the Montana landscape. Earth Within offers floral wedding design, DIY floral workshops, seasonal wreaths, and flower delivery in Missoula.
To find more details about Earth Within Flower's new logo and website design, call Melissa Lafontaine at (406) 240-1367 or send her an email at melissa@earthwithin.com. Visit the website https://earthwithin.com to learn more information about the services they offer.