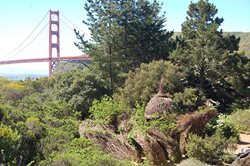 "The Bay Area Discovery Museum's Earth Day Festival invites families to inspire the next generation of environmental stewards," said CEO Karyn Flynn.
(PRWEB) March 12, 2014
The Bay Area Discovery Museum celebrates an Earth Day Festival on Saturday, April 19 from 9 a.m. to 5 p.m. to inspire children to become the next generation of environmental stewards.
The Earth Day Festival will feature two performances to inspire children and their families. At 11 a.m., San Francisco locals The Corner Laughers will perform their fun and danceable pop music in Discovery Theatre for the final paid performance from the Spring Kids Concert Series. Tickets to the Corner Laughers are $5 for members and $16 for general admission, and include admission to the Museum. At 1 p.m., The Snail People will perform in Festival Plaza, singing re-imagined classics and creative originals that encourage slowing down and caring about the earth. This show is included for free with Museum admission.
Families will have the opportunity to engage with Museum exhibits in special ways. All day long, visitors can make artful creations with recycled materials in the Art Studios. Kids will get inspired to save the world as they're introduced to the four R's – recycle, reduce, repair, reuse – in the latest special exhibition, Super Kids Save the World.
From 2 – 4 p.m. in Patterson Grove in Lookout Cove, families can make temporary creations from stones, leaves, shells, pods, branches, flowers, and other wonders of nature. At 3 p.m. in Lookout Cove, Alicia Retes will be telling stories about the natural world influenced by her Mayo, Yaqui and Cherokee heritage to inspire people of all ages to experience meaningful and nurturing relationships with nature.
The site-wide Earth Day Festival encourages children to immerse themselves in the Museum's unique place by the Bay. All activities included with admission unless noted otherwise. Museum admission is $11 for all ages over 6 months. Infants under 6 months and Bay Area Discovery Museum members are free. This event is generously supported by Subaru and Macy's.
About Bay Area Discovery Museum
Creative thinking begins early in every child's life. It enables original thought and the ability to see solutions where others don't. It unlocks possibilities and fosters innovation. It provides the fundamental building blocks for success in school and beyond.
The Bay Area Discovery Museum is designed to ignite creative thinking in children. 7.5 acres of natural beauty inspires families to engage in a world of possibilities. Framed by the majestic backdrop of the Golden Gate Bridge, the museum is a space for imaginations to run wild. Every curated detail of the exhibits brings creative thinking to life for all stages of childhood. Navigate winding tunnels to develop physical and intellectual risk-taking skills. Feel the rush of cold-water tide pools that surprise and awaken curiosity. Imagine new worlds by transforming into a spider, a ship captain, or a bridge builder. At every turn is a new opportunity to challenge the boundaries of creativity.
Now the Museum is taking these experiences beyond its physical location. The Bay Area Discovery Museum launched the Center for Childhood Creativity in 2011 to pioneer new research, thought-leadership, and teacher training programs that advance creative thinking in all children—extending the Museum's impact.
The Museum's mission: To ignite and advance creative thinking for all children.