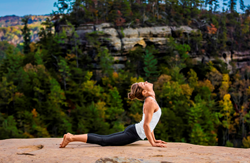 We are excited about the sustainable solutions we've found so far, and we promise to continue our search to keep making and doing things better—that's the seed that started prAna more than 20 years ago, and it's the inspiration that moves us forward today
Carlsbad, CA (PRWEB) April 22, 2015
Sustainability means more than recycling and using organic and natural fibers – for prAna it means working to constantly improve its practices in a holistic way from start to finish.
"At prAna, we believe a brand should give much more than it takes from the world," said Scott Kerslake, CEO at prAna. "We are excited about the sustainable solutions we've found so far, and we promise to continue our search to keep making and doing things better—that's the seed that started prAna more than 20 years ago, and it's the inspiration that moves us forward today."
prAna's commitment to sustainability includes four key strategies:
Materials to Make prAna Products
prAna continuously looks for materials that have a reduced impact, including recycled fibers, organic cotton, recycled polyester, and hemp because they require less energy and pesticide to create. prAna is also a member of the Textile Exchange—a non-profit committed to the responsible expansion of sustainable textiles—and is proud to be able to prove all of its claims, thanks to an emphasis on traceability throughout its supply chain.
Resources to Service the Business
Though our corporate offices represent only a fraction of prAna's environmental impact, it sets the tone for corporate responsibility and has an incredible ripple effect. By increasing resource awareness at their desks, the team at prAna naturally brings that intention to their search for solutions outside the office. In packaging, prAna has reduced the number of plastic bags its products are wrapped in by 74% and all clothing is now shipped in paper bags made of 100% recycled content.
People and Working Conditions
prAna is an active member of the Fair Labor Association and takes ownership in providing quality working conditions for people who make its products. That's why prAna was one of the first major apparel makers to offer Fair Trade Certified. Fair Trade certification is the first social, economic and environmental standard that directly benefits the farmers who grow the cotton and the workers who sew the garments.
Natural Power Initiative
prAna has committed to lowering its greenhouse gas emissions and accelerate the development of a renewable energy economy. Since prAna launched its Natural Power Initiative in 2005, purchases have prevented the emission of an estimated 71,961 metric tons of greenhouse gases into the atmosphere. This has the equivalent climate impact of removing 13,180 average cars off the road or protecting 16,355 acres of forest.
"We are mindful of the natural resources we use and the communities we impact as part of the apparel industry, so we work to motivate our customers and peer businesses to make earth-healthy choices with us," said Kerslake. "We recognize we can encourage even greater positive change by inspiring and modeling a more caring and proactive approach to the world around us."
To learn more about prAna's commitment to a healthier planet on Earth Day and every day, please visit prAna.com.
About prAna:
prAna is a lifestyle brand that draws its name from the ancient Sanskrit word for breath, life and vitality of the spirit. The prAna team creates purposeful and stylish apparel for people to pursue their passions on the water, mat, rock, trail, and street. From its beginning in 1993, prAna has been committed to weaving sustainable practices into its operations and supply chain, working to reduce its impact on soils, water supplies and other natural resources while promoting conservation. prAna is also conscious of its impact on communities and has worked to include a growing number of fair trade styles every year. It is the first major apparel company in North America to offer Fair Trade USA certified products and accessories. prAna is sold in five flagship stores, online at prana.com, and in 1,400 specialty retailers across the US, Canada, Europe and Asia. prAna is one of the portfolio brands of Columbia Sportswear Company (COLM).
For a list of prAna retailers, please visit prana.com/dealer-locator.html
Find @prAna on Facebook, Twitter and Instagram