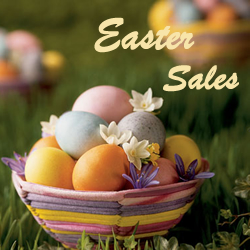 San Francisco, CA (PRWEB) April 17, 2014
As 2014 Easter is coming, BestHostingSearch.NET has introduced some of the best web hosting promotions and sales for the holiday to enable webmasters to purchase their desired web hosting packages with the minimum costs. Regular price, discount, extras and service quality are the main factors considered in the selection.
The offers that are introduced are the shared hosting packages from InMotion Hosting, JustHost and A2Hosting, 3 web hosts that provide up to 68% discounts together with a large number of free features for the celebration of the holiday.
1) InMotion Hosting
InMotion Easter sales are 3 large discounts for the Business Class Hosting packages named as Launch, Power and Pro. With the regular price starting from $7.99/mo, $9.99/mo and $15.99/mo, the packages are available from $3.49/mo, $4.49/mo and $13.99/mo for new customers signing up through this promotional link. The company allows 56%, 55% and $2/mo off for the packages respectively.
Besides the discounts, all subscribers have complete access to automated daily website data backups, a premium website builder, and a minimum of $275 marketing credits for Google AdWords, Twitter, Yahoo, Bing, YP Listing and Amazon. In addition, the 90 days full refund guarantee minimizes the risk of using the service from InMotion.
2) JustHost
JustHost offers a 68% discount which is exclusive to subscriptions made through this promotional link. No coupon code is available. During the promotion, the effective price of the company' shared package Just Plan starts from $2.25/mo instead of the regular $6.99/mo.
The extras coming with Just Plan include the registration for 1 domain name, a 1-click script installer, $100 Google AdWords credits, $50 Facebook advertising credits, $50 Bing credits and anytime money-back guarantee.
3) A2Hosting
Dedicated to offering green and affordable web hosting service, A2Hosting provides 2 coupon codes which bring different discounts for different length of terms. For new customers choosing the terms of 1/6/12 month(s) by going through this link, the coupon code BHSCODE has been applied by default, which cuts the price of the Prime plan down to $3.92/mo.
For those who select a 24/36 months' term, the code BHSA2CODE entitles them to get a 34% discount to reduce the cost to $3.95/mo. CloudFlare CDN, server rewind backups, HackScan and $45 ads credits are offered with no additional charge.
About BestHostingSearch.NET
It is a professional site with 8 years' experience in reviewing and rating web hosting services, introducing coupons and helping webmasters select the right package according to their demands.