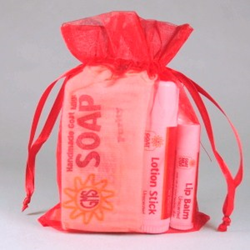 Involving our eight children in the Goat Milk Stuff family business is a way we try to instill in them Christian values.
Scottsburg, IN (PRWEB) March 25, 2014
As Spring arrives and nature begins to bloom again, Easter represents the spirit of rebirth and is an ideal occasion to show you care with a gift of wholesomely natural soaps and lotions from Goat Milk Stuff.
Homemade by the Jonas family on their Indiana farm, Goat Milk Stuff natural chemical-free soaps and lotions are made with milk of their Alpine goats and available in Gift Packs at GoatMilkStuff.com.
Founded by PJ Jonas, a mom of eight children ages 6 to 17, Goat Milk Stuff has grown from making soap for her children into a thriving company with soaps and lotions enjoyed by loyal customers across the USA and worldwide.
PJ and Jim Jonas homeschool their children, each of whom helps at Goat Milk Stuff in age-appropriate ways from milking goats to assisting in the office and store.
Jim said, "Involving our eight children in the Goat Milk Stuff family business is a way we try to instill in them Christian values. The new life that we celebrate at Easter was given to us by the love of Jesus through His death and resurrection. One way our family strives to be diligent in sharing that love with others is through our products. The Jonas family hopes everyone will show the Easter spirit in their homes and communities to help make the world a better place."
PJ said, "We are happy our products help so many people by moisturizing and pampering their skin and feel that the Gift Packs we have developed offer a thoughtful way during the Easter season to express gratitude to someone you care about."
Goat Milk Stuff offers several Gift Packs, each in a colorful natural organza bag, such as Sensitive Skin Pack of unscented purity goat milk soap, unscented lotion stick, unscented lip balm and small laundry soap, for $20; Beauty Pack of 5-ounce scented goat milk soap, small lotion stick and lip balm at $17; Bath Fizzies Variety Pack of individual packs for pampering baths in 6 scents of Black Raspberry, Cold Relief, Lavender, Luv Spell, Pink Sugary and popular Oatmeal, Milk and Honey, at $24; Foot Care Pack of peppermint-scented lotion stick, bath fizzy & foot scrubby luffa, for $18, and Problem Skin Pack for anyone with dry skin, eczema, psoriasis, rosacea, acne, flaking or other skin problems, including four half-bar soaps in organic Castile, Purity, Calendula and Tea Tree, for $15.
Orders placed by Tuesday, April 15th at GoatMilkStuff.com will be shipped by two-day Priority Mail to surely arrive before Easter Sunday, April 20th.
Recently, CBS in Chicago reported how the Jonas family works together and TV's The Doctors also featured the family and Goat Milk Stuff's healthy products that help skin.
The Jonas business maintains an active social media presence with a growing following on Facebook at Facebook.com/GoatMilkStuff, YouTube at YouTube.com/GoatMilkStuff and on Twitter at Twitter.com/GoatMilkStuff.
Online at GoatMilkStuff.com, the Scottsburg, Indiana company makes and markets all-natural Goat Milk Stuff™ products including goat milk soaps, lip balms, lotions, bath bombs, laundry soap, soy candles and more. For media or entertainment, contact Brian Dobson at DobsonPR.com or BD(at)DobsonPR(dot)com.