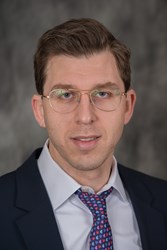 The uplifting numbers are becoming a common occurrence at Eastern Union, which received a record total ofsubmissions and deals put in process in October closing just under 70 loans.
Howell, NJ (PRWEB) December 05, 2013
Shaya Ackerman, Senior Managing Director at Eastern Union Funding has been in high gear, closing six loans on as many varying property types in as many days. He inked deals spanning three boroughs and two states for an assisted living facility, a senior living community, a multifamily construction take-out, a regular multifamily, a mixed-use and a land loan.
Ackerman negotiated a $45 million acquisition and bridge financing, at 4 percent interest only, for a land deal on Manhattan's West Side. Additionally, he tied up a multifamily construction take-out for $11.5 million, a nine year deal on a 30-year amortization schedule at sub 3 percent pricing. This completes phase two of construction for what will be a 450-unit multifamily located in Willingboro, NJ.
Meanwhile, back in Brooklyn, Ackerman also originated a set of loans for the refinance and purchase of an assisted living facility and senior living community by the same owner. Both of those deals closed on the same day, for amounts of $15 million and $7.595 million respectively.
The larger of those two was the refinance of "Waterford on the Bay," a hotel-style senior living community with 192 beds near Manhattan Beach, built by the client's father in the early 1970s. The cash out on Waterford allowed the purchase of the 199-bed assisted living home, "Scharome Manor." Ackerman said the purchase was a long-awaited next step for the borrower, who owns several similar facilities in the area. The loans were provided by Investors Bank.
"We were able to get the borrower seven year money with one year of interest-only at 4 percent rates. These were rates he wasn't accustomed to getting," said Shaya Sonnenschein, Director of Underwriting on the Ackerman team. "The process took a lot of legwork and detail, and ultimately our client was happy with the execution that the bank and the broker brought to the table."
As he rounded up his week, Ackerman negotiated mixed-use and multifamily closings for the same borrower in the Bronx. Loan amounts were $1,990,000 and $1,425,000, respectively. Both properties were financed by Suffolk County National Bank.
The uplifting numbers are becoming a common occurrence at Eastern Union, which received a record total of submissions and deals put in process in October, while closing just under 70 loans.
"Our goal is to diversify yet stay within our sweet-spot of under $50 million" said Ira Zlotowitz, president of Eastern Union. "We want to be efficient with some of the hairier deals without losing sight of our bottom-line commercial loans. Ackerman has been an engine in this regard and the past few weeks have crystallized our vision."
About Eastern Union Funding
Eastern Union Funding is the country's second-largest privately owned commercial mortgage company, on a transaction volume basis, serving the national commercial real estate sector. While Eastern Union deals in loans of any size, we specialize in loans below $50 million with a dedicated small loans division for loans below $3 million. Eastern Union works closely with a wide spectrum of lenders to finance transactions for multifamily, office, retail, hotel, healthcare, industrial, construction, co-op and self-storage properties. The company has offices in New York, New Jersey, and Maryland.