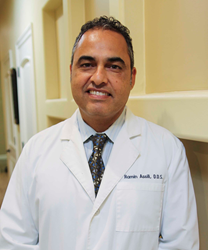 East Los Angeles, CA (PRWEB) February 17, 2017
East Los Angeles dentists, Dr. Assili and Dr. Elyson announce that their dental office, Smiles LA, is now offering a wide range of orthodontic treatments. Orthodontic treatment gives patients numerous benefits, including improved appearance, increased comfort, and lower risks of many oral health problems. Many orthodontic treatments are available at Smiles LA, and most patients of all ages are likely to find options at the office that work for them. In every case, patients can expect lasting changes from bite correction, supporting their well-being and quality of life.
Orthodontic options at Smiles LA include not only conventional metal braces, but also several modern choices that provide patients a host of added benefits. For example, several discreet types of braces are offered, including lingual braces, which are put behind the teeth, and ceramic braces, which feature tooth-colored brackets that blend in with the smile. Damon braces, one type of ceramic braces, uses self-ligating brackets that are smaller and more comfortable than normal brackets. The most discreet treatment the office provides is Invisalign. The clear aligners used with this system are virtually invisible and can often straighten teeth in less time than conventional braces.
Orthodontic treatment is only one of several specialties available at Smiles LA. The office also offers full treatment selections in general dentistry, cosmetic care, periodontal treatment, endodontics, and more. General dental options include routine check-ups and cleanings, as well as preventive care, such as sealants and fluoride. For cosmetic improvements, patients at Smiles LA can get teeth whitening, porcelain veneers, crowns, bonding, and more. Children's dentistry, laser dentistry, and sleep apnea and TMJ treatments are also provided at the office.
East Los Angeles dentists Dr. Elyson and Dr. Assili both graduated from California State University, Northridge. Dr. Elyson majored in Biochemistry and Dr. Assili majored in Chemistry before earning their DDS degrees at UCLA School of Dentistry. They started practicing in Northridge in 1999. Throughout their careers, Dr. Assili and Dr. Elyson have completed postgraduate training in several specialties, including dental implants, in order to offer their patients the highest level of care. Both dentists are reputable members of the American Dental Association and several other dental organizations.