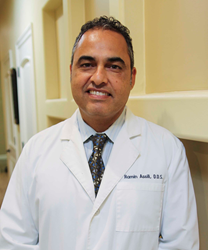 East Los Angeles, CA (PRWEB) June 30, 2016
East Los Angeles dentist, Dr. Ramin Assili, announces that he is offering a promotion on Invisalign for a limited time. Through June 30, 2016, patients can receive Invisalign treatment for $750, including a free consultation. This promotion cannot be combined with any other offer. With the reduced price, patients can more easily afford the benefits of Invisalign, such as improved discretion, comfort, and treatment speed compared to conventional braces. Invisalign offers patients all the classic advantages of traditional braces, including better oral health and appearance for life.
Discretion is the key reason why many patients choose Invisalign. Made of clear plastic, the Invisalign aligners are barely noticeable compared to the metal brackets and wires that traditional braces require. Invisalign aligners are more comfortable thanks to their smoothness, which does not abrade the inner cheeks as metal braces can. Patients wearing Invisalign can also more easily maintain their oral health than if they were wearing metal braces. Not only do the removable aligners not collect grime the way metal brackets and wires can, but the aligners allow patients to brush and floss as usual after removal. In contrast to metal braces, which often take about twenty-four months to straighten teeth, Invisalign works in an average of fifteen months.
Many treatments in several dental specializations are offered by Dr. Ramin Assili. These treatments include several restorations, including tooth-colored fillings, inlays, onlays, and crowns. Cosmetic treatments, such as veneers, teeth whitening and smile makeover, are also available. For tooth replacement, patients have access to dental implants and bridges. Infected teeth may be treated with extraction or root canal treatment. Dr. Assili offers sedation to make treatment easier for many patients, including those with anxiety.
Dr. Ramin Assili earned his undergraduate degree in Biochemistry at CSUN before going to UCLA, where he earned his DDS at the School of Dentistry. As a graduate of the prestigious Misch Implant Institute, Dr. Assili is adept at the latest techniques in implantology. Dr. Assili is a reputable member of several organizations in his profession and works to consistently provide his patients with optimal oral health and appearance.