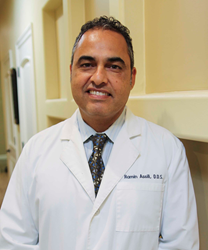 East Los Angeles, CA (PRWEB) March 30, 2016
Dr. Ramin Assili, dentist in East Los Angeles, now announces that he is offering pediatric dental treatments and sedation to his patients. Through a full selection of pediatric dental treatments, Dr. Assili promotes lifelong oral health for young patients. Sedation, available in three forms, makes dental care possible for patients of all ages. In addition to making treatment tolerable for patients with anxiety about dental care, sedation makes dental care possible for individuals who have movement disorders and other conditions that can potentially complicate treatment.
Pediatric dental treatments include a number of preventative and other types of procedures. Prevention of cavities is improved with procedures such as sealants, which protect teeth from erosion and decay. Fluoride, another preventive option, strengthens teeth and enhances natural repair by the body after erosion or wear. Dr. Assili, children's dentist, also offers restorative care and personalized recommendations regarding oral health routines. Sedation is available in inhaled, oral, and IV types. Inhaled sedation, or nitrous oxide, works quickly and offers mild anesthesia, in addition to wearing off quickly afterwards so that patients can drive themselves home. Oral sedation uses pills given before procedures to create a stronger level of relaxation during treatment. Finally, IV sedation works immediately and produces the strongest level of sedation. With oral and IV sedation options, patients must arrange for transportation afterwards because safe driving is not possible.
Procedures in all categories of dental care are available from Dr. Assili. These include cosmetic treatments, such as veneers, crowns, and teeth whitening, in addition to restorations, such as fillings, inlays and onlays. Root canal treatment, extractions, bridges, and sleep apnea treatments are also available. For eligible patients seeking discreet orthodontic care, Dr. Assili offers Invisalign.
About Dr. Ramin Assili, Sedation Dentist East Los Angeles
dentist Dr. Ramin Assili graduated from California State University, Northridge, in 1988 with his B.S. in Biochemistry. At UCLA, Dr. Assili earned his Doctorate of Dental Surgery. During his career, Dr. Assili has completed special training in several areas of treatment, including dental implants, cosmetic treatment and sleep apnea. Dr. Assili is a reputable member of several professional dental organizations, including the Academy of General Dentistry, and offers his patients the latest techniques and technology in restorative, cosmetic and other dental treatments.