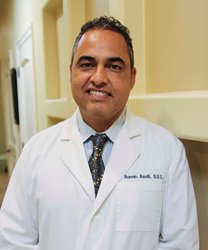 East Los Angeles, CA (PRWEB) July 28, 2016
East LA dentist, Dr. Ramin Assili, announces the new promotion he is offering on dental implants. Patients can currently get a dental implant for $999, not including the restorative implant crown placed on top. This promotion expires September 30, 2016, and cannot be combined with any other offer. Dental implants are in high demand as more patients recognize that this option outperforms alternative tooth replacements in several ways. In addition to looking and feeling more natural, dental implants protect the jaws from deterioration in the long term.
The advantages of tooth implants are mainly due to their placement directly in the jaw bone. Not only does this maximize stability, but it also eliminates the need for exterior hardware in the mouth. Used in combination with porcelain artificial teeth, dental implants offer the most natural-looking replacement for lost teeth. Implants, unlike dentures, do not ever click or slip. Proper care can allow implants to last for life rather than decades, as bridges generally do. Implant integration with bone tissue in the spots where tooth roots used to be means that remaining teeth are less likely to fall out later and that the normal facial structure is retained.
The office of Dr. Assili offers a full selection of dental treatments. As alternatives to dental implants, bridges are available. Patients seeking discreet orthodontic care may be able to receive Invisalign. Cosmetic treatments, including veneers, teeth whitening, bonding, tooth-colored restorations, and smile makeover, are also offered. Root canals are available for infected teeth, and extractions, including for wisdom teeth, are provided at the office. Other services provided by Dr. Assili include sleep apnea treatment, TMJ treatment, and sedation dentistry.
A Biochemistry graduate of CSUN and dental graduate of UCLA School of Dentistry, East Los Angeles dentist Dr. Ramin Assili has also completed postgraduate training in implantology at the world-renowned Misch Implant Institute. Today, Dr. Assili is a reputable member of several organizations in his profession and is a fellow at the International College of Implantologists. After nearly twenty years of service to area patients, Dr. Assili continues to provide patients with the latest dental procedures available to restore optimal appearance and oral health.