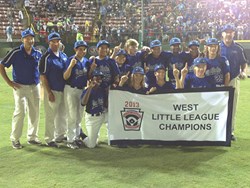 Chula Vista, CA (PRWEB) August 16, 2013
Connect with the Eastlake team on their official Facebook page
View the official Little League World Series schedule
It was supposed to be a pitchers' duel between Eastlake Little League of Southern California's Grant Holman and Belmont-Redwood Shores Little League of Northern California's Sean Lee.
The only problem was that the Southern California bats didn't seem to get the message. Taking advantage of a steady stream of runs, Southern California toppled Northern California 9-0 in the West Regional final Saturday night, Aug. 10, booking a trip to South Williamsport, PA., for the 2013 Little League Baseball® World Series.
With the victory, this marks the second time that a team from Chula Vista and the 45th time that a team from California has advanced to the Little League Baseball World Series. In 2009, a team from Chula Vista, Park View, made it to the Little League Baseball World Series Championship game and won it all over Asia-Pacific Champion, Kuei-Shan Little League of Taoyuan, Chinese Taipei.
Southern California got the scoring started early, getting a run across home plate in the bottom of the first with an RBI triple by Nick Mora, scoring Michael Gaines on the play. In the second inning, Southern California added two more runs, making the score 3-0.
However, it wasn't until the next inning that Southern California would really start to break it open. With runners on first and third and no outs, a wild pitch got past the catcher, allowing the runner on third to score while the runner on first advanced to second.
After Ricky Tibbett grounded out to first, advancing the runner from second to third, Lee walked the next batter and then gave up a ground out, which scored the runner on third. Lee would get out of the inning without any more runs crossing the plate but the damage was already done with Southern California having taken a 5-0 lead.
Southern California continued to increase their lead, adding another run in the fourth inning, making the score 6-0.
In the fifth inning, Southern California put Northern California on the breaking point. The score was 9-0 and Southern California needed just one more run to force the 10-run rule and end the game, but with the bases loaded and only one out, Southern California couldn't find the one hit they needed. Both Giancarlo Cortez and Tibbett struck out, but it wouldn't make a difference in the end.
Holman would only need four batters to get the three outs Southern California needed to send them to Williamsport. For the game, Holman allowed just two hits while striking out nine batters in what was a dominant pitching performance; and Southern California is going to need more performances like this from Holman in what they hope will be another championship run for Chula Vista at the Little League Baseball World Series, 2013 edition.
Story by George Thompson, August 11, 2013