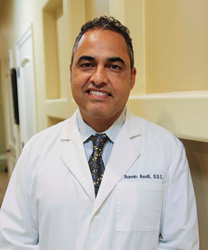 Los Angeles, CA (PRWEB) June 27, 2017
East Los Angeles dentist, Ramin Assili DDS, comments on the study on what crooked bites can indicate about early life experiences. What happens to a woman during pregnancy can have profound effects on a developing fetus, but a new study reveals that stresses after birth can also take a toll on a baby's long-term health. This study, which was performed at the University of Washington, revealed that early life stress in the days following birth was linked to lower face asymmetries.
Anthropologists have used skeletal asymmetries to identify environmental stressors, but this study is unusual in that it is using them in a living population. During the study, researchers evaluated information from more than 6,500 teens from the National Health Examination Study that was gathered between 1966 and 1970. About 25 percent of the teens had lower face asymmetries. This generation of teens was also more likely to suffer from obesity and diabetes in adulthood.
When teeth bite normally on one side and too far back or forward on the other side, lower face asymmetries occur on the right or left side. Orthodontic treatments can be used to address asymmetrical bites as well as other bite abnormalities. Dr. Assili offers orthodontic treatments such as Invisalign. He also offers comprehensive dental services, including:

Tooth-colored fillings
Porcelain crowns
Zoom whitening
Pediatric dentistry
Smile makeovers
Periodontal therapy
Sleep apnea treatments
TMJ therapies
The study authors emphasized that only asymmetrical bites are associated with early life stress. Overbites, underbites, crooked teeth and other orthodontic problems tend to be associated with genetics rather than environmental stress. Furthermore, more studies are needed to identify the current prevalence of lower face asymmetries and their link to chronic diseases and degenerative conditions in living populations.
About Dr. Ramin Assili
After graduating with a BS in Biochemistry from California State University, Northridge, Dr. Assili continued his studies at UCLA's School of Dentistry, where he received his DDS. He graduated from one of the world's foremost implant centers, the prestigious Misch Implant Institute. Today, Dr. Assili is a member of the American Dental Association, the Academy of General Dentistry, the California Dental Association and the Los Angeles Dental Society and a fellow of the International College of Implantologists.
Source: https://medicalxpress.com/news/2017-04-crooked-early-life-stress.html