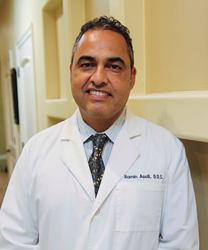 East Los Angeles, CA (PRWEB) May 02, 2016
East Los Angeles dentist, Dr. Ramin Assili, is now offering a promotional price on dental extractions. Currently, patients can visit Dr. Assili to receive any dental extraction treatment for $40 off the regular price. This promotion cannot be combined with any other offer, and it expires June 30, 2016. With the lower price, patients can more easily afford extractions to eliminate teeth that are damaged or otherwise problematic. Patients who have teeth extracted can also get tooth replacements from Dr. Assili, expert in dental implants in East Los Angeles.
Although keeping teeth in place is always ideal, extractions can become necessary or desirable in certain situations. For example, wisdom teeth removal may be necessary if they erupt incorrectly or cause overcrowding. Teeth can also become so badly damaged by decay or physical trauma that even a root canal is no longer a viable solution. In cases where tooth infections can be resolved with root canal treatment, some patients instead opt for extraction in order to save money. Tooth replacement can be performed afterwards to restore appearance, functionality, and comfort.
Tooth replacements offered by Dr. Assili include dental implants and bridges. For restoration of less damaged teeth, patients can receive tooth-colored fillings and bonding. Dr. Assili offers Invisalign, the leading discreet orthodontic treatment, for correction of crooked teeth. Patients can also receive a variety of cosmetic treatments from Dr. Assili, including teeth whitening, veneers, and smile makeover. For treatment of gum disease, patients can get periodontal treatment, such as deep cleaning and gum flap surgery. Dr. Assili also specializes in dental treatments for obstructive sleep apnea. A variety of sedation options are available for eligible patients to prevent anxiety during treatment.
About Dr. Ramin Assili, Sedation Dentist East Los Angeles
Dr. Ramin Assili graduated from California State University, Northridge, with his B.S. in Biochemistry. At the UCLA School of Dentistry, Dr. Assili earned his Doctorate of Dental Surgery degree. Dr. Assili has also completed postgraduate training in a number of specialties, including implantology, which he studied at the world-renowned Misch Implant Institute. As a member of several professional organizations in his field, Dr. Assili today offers patients a full range of dental treatments in restorative, cosmetic, and other areas of dentistry.