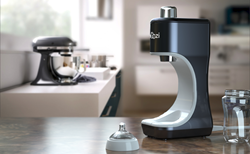 It's time we had a simple one-button solution for preparing perfect temperature formula bottles.
Boston, MA (PRWEB) December 03, 2014
Moozi, an innovative single-serving system that simplifies making bottles with baby formula, has been launched by 'mompreneur' Miriam Kutcher. The system will retail commercially in 2015, with several US retailers interested. It is also available to early backers through a Kickstarter campaign which runs until December 13th.
With Moozi, Kutcher aims to revolutionize formula feedings. The system's reusable pods hold the formula while the touch of a single button initiates the creation of a perfect temperature bottle in under a minute. It is an all-in-one system that gives parents a stress-free, safe, clean and easy alternative to the current complicated formula feeding preparation process. The system has a patent-pending dry release system which keeps the formula and water separate until they mix in the bottle. Since they don't mix in the machine, the channels stay clean. This makes Moozi easy to maintain and keeps it running smoothly.
Multiple sensors are in place to ensure safety and proper functionality. There is a sensor in the water tank, so Moozi won't operate without water. There is also a sensor to control the water temperature, ensuring it heats to a regulated body temperature setting. In addition, there are sensors to detect that a bottle is in proper position and that the lid is closed. Moozi works with most upright wide-neck bottles and all formula brands thanks to its reusable pods, giving the parent total control over which brand and how much formula to use, based on what's best for their infant.
Miriam Kutcher, a busy working mom-of-two and creator of Moozi said: "As a full-time working mother, I would dream of a way to simplify middle-of-the-night feedings so we could all go back to sleep more quickly. I remember thinking about devices like Keurig, that make it easy for bleary-eyed adults to make a cup of coffee, and wondering why there wasn't an easy one-button solution that worked just as simply for formula? For parents and caregivers who use formula, it's time we had the perfect solution to eliminate the time-consuming steps we currently face each time we make a bottle."
Before Moozi hits retail shelves in late 2015, Kutcher's company, Miravan, LLC, is offering potential backers a chance to purchase Moozi through its Kickstarter campaign at a discounted price of $125. Miravan, LLC has partnered with Operation Shower – a non-profit organization providing baby showers for military families to ease the stress of deployment. Backers who would like to support Moozi, but don't need one for themselves, can pledge $100 to donate a Moozi to Operation Shower and help a military family in need. Moozi is available through the Kickstarter campaign until December 13th.
About Miravan, LLC
Founded by 'mompreneur' Miriam Kutcher, Miravan, LLC is the company formed to bring Moozi to market. Moozi is the on-demand one-button feeding system for preparing perfect temperature formula bottles in under a minute. At Miravan, LLC our mission is to create convenient and affordable feeding solutions for parents and caregivers by designing smart and simple infant and child care products. Learn more at moozifed.com.