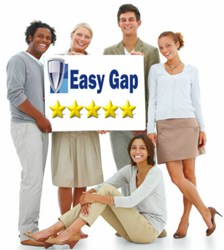 Easy Gap warn consumers may buy the wrong type of Asset Protection for finance agreements
Wirral, UK (PRWEB UK) 10 August 2013
A featured UK Motor Gap Insurance brand has released a new guide detailing the benefits and limitations of one of the most popular forms of Guaranteed Asset Protection. Easy Gap, who have been featured on the Which?* Gap Insurance comparison in 2012 and 2013, say that the new information has been released in response to concerns that UK consumers may not fully understand how Finance Gap Insurance may perform as a protection product.
Easy Gap spokesperson Mark Griffiths explained the new guide in more detail.
"Finance Gap protection has been around in the market for quite some time, and it is often provided by motor dealers and online specialists for UK consumers. The idea of the product is that it can cover any shortfall between the vehicle market value and the outstanding finance settlement on a Hire Purchase type agreement."
"The basis is therefore simple enough, if you owe more on the finance settlement than the vehicle is worth, then finance Gap can protect the difference for you."
However, the new guide highlights specific issues where people may assume that Finance Gap can provide protection under any circumstance when a finance agreement is present. The Easy Gap spokesperson explained that many consumers may take Finance Gap when it may not provide any protection at all.
"For consumers who put a sizeable deposit into a finance agreement, there is much less chance, in some cases no chance at all, that they will have a finance settlement that exceeds the vehicle value."
"Taking a Finance Gap product when a large deposit is paid on the vehicle means that this deposit cannot be recovered. In these circumstances, a Return to Invoice or Vehicle Replacement policy may be far more beneficial."
"The report details why this is the case, and highlights reasons for the confusion."
"Easy Gap hope that the new information makes this subject clearer for consumers, and encourage anyone who has any queries to call our Customer Services Team"
Easy Gap also confirmed the new report is available on the EasyGap.co.uk website with immediate effect.
*Note to Editors taken from http://www.which.co.uk/money/insurance/guides/gap-insurance/return-to-invoice-gap-insurance-review/